Oregon Restaurant Insurance
Cause you should never "trail" behind in coverage.

You've picked the spot. You know the menu. You've thought about names. You're ready to go. Well, not before you get insured, though.
Lucky for you, you've got an independent insurance agent to help you with your restaurant insurance. This means that no matter which of the above you want to serve up, where the restaurant is in Oregon, or virtually any other factor, you'll get the coverage you need, and nothing you don't.
Let's Nail Down Restaurant Insurance Basics
Before you start running, let's walk the walk. Restaurant insurance has three basic building blocks:
Protection for your building and the stuff inside it
Protection for your customers
Protection for your employees (and potentially against them)
The idea is that restaurant insurance takes all of your risks and protects you against the consequences of certain natural disasters, accidents, and more. And when you work with an independent agent, you're guaranteed to get the basic and specialty coverage for all of your needs.
Protection for Your Building and the Stuff Inside It
The formal name for this kind of coverage is property insurance. Your general policy is going to protect your real estate (i.e., the building), and personal property, too. But beware. Personal property is typically covered under your general policy only if you can move it. So if you can take it off a wall or push it around, you're good.
The issue comes in when you want protection for immovable personal property. Immovable property is the stuff that is bolted down. It's your kitchen equipment and some built-ins, like a bar, if you've got one of those. And because built-ins and immovable property tend to eat into your pocketbook a bit more than the fake flowers you've put in the windowsills, this is additional coverage you'll want to discuss with your independent insurance agent.
Note that there are other factors that can influence the cost of property coverage other than just your building and what's inside it. Things like how hazardous your kitchen equipment is can transform the cost of coverage. Let's say you have lots of open flames in the back-end of your restaurant: This is going to increase the cost of coverage because a fire is much more likely.
Now you've got your building covered, movable personal property in check, and immovables accounted for. But that's not all your property. You've also got your sign, food, and other "property" that just isn't covered under the general policy. Your handy dandy independent agent will discuss these additional policies with you, including:
Signs: Not every restaurant has a fancy pants sign. If yours does, you might want to fork over the extra money to get it covered, especially since some can cost upwards of $100,000. This special property coverage will protect drive-thru signs, too. Keep in mind that this applies whether the sign is damaged due to weather, vandalism, or a good old-fashioned car accident.
Spoilage: You buy food, you put it in the freezer. The freezer breaks. Now what? Spoilage coverage will pay for the price of what you lose. Easy peasy.
Lost business income: Let's say there's a blizzard and your restaurant is shut down because it busts the electrical system. Lost business income pays your expenses – including your employee salaries – while you're shut down. Of course, this coverage isn't just limited to natural disasters. It could be for a kitchen fire, flood, or other issue, too.
Equipment (boiler and machinery): This isn't the equipment itself, but it covers the cost of repairs when equipment breaks down and then damages other structures, like wires or plumbing.
Ordinance and law: State codes matter. If your restaurant isn't compliant with one, this type of property coverage helps. It also kicks in if your restaurant is destroyed and you need to rebuild, or if you've decided to build the restaurant brick by brick from the ground up. This means that you need to be concerned about things like handicapped-compliant features, fire safety precautions, and emergency exits.
Art floater coverage: If you have specialty artwork, get it appraised and get it covered under this specialty policy. Otherwise, you won't get the real value of the property if it is destroyed or stolen.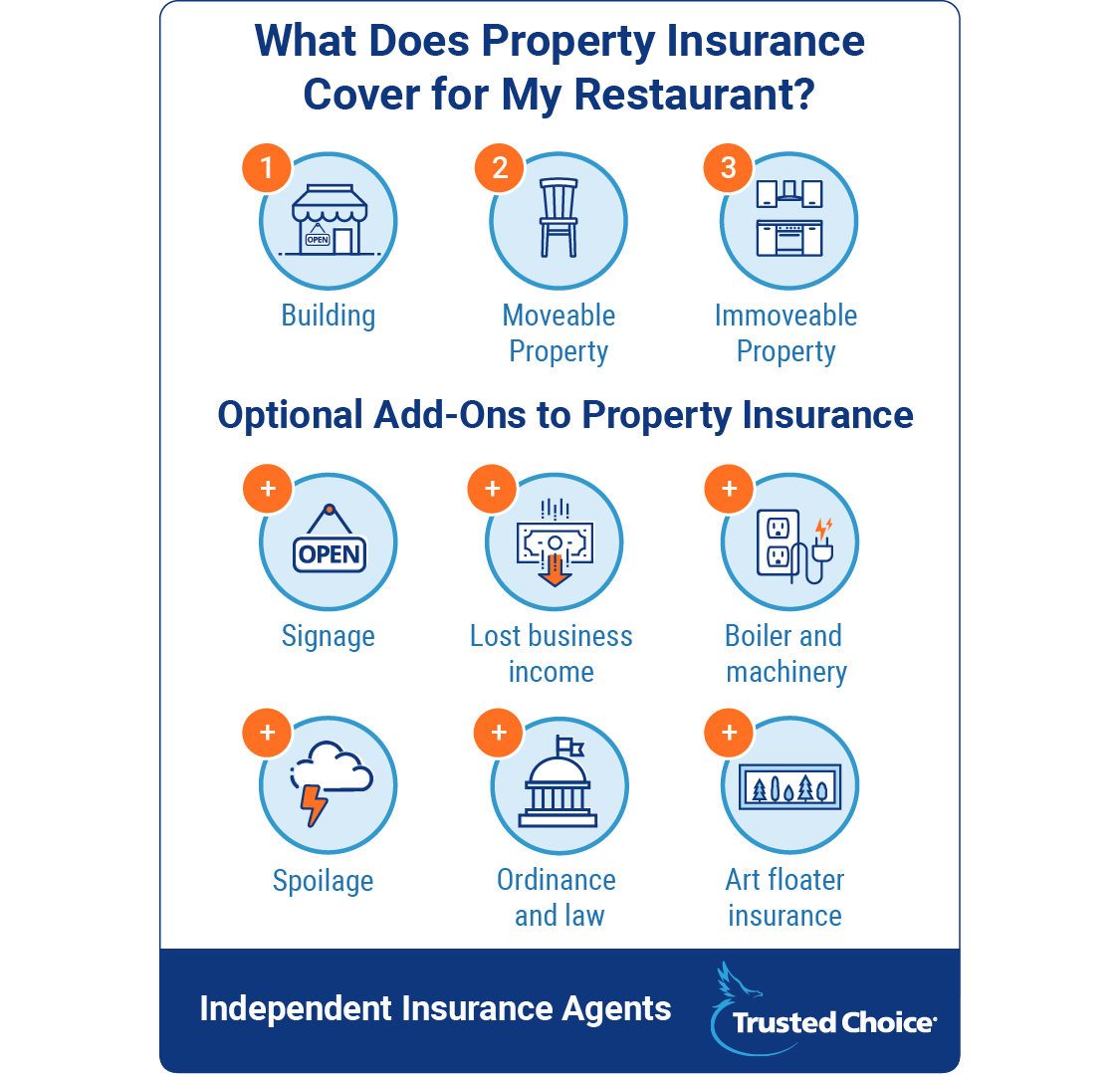 Protection for Customer Risk
Liability insurance is all about risk. It's about the fact that as soon as you fling open those doors to the public (or in a less dramatic fashion, just unlock them), you have to worry about each and every person that walks through your doors.
General liability protects you if a customer gets sick or injures themselves while they're at your restaurant. So if you only do carry-out, you'll need less general liability because customers are literally walking in your restaurant to walk right back out. But the whole "eat food get sick" part of the coverage is pretty standard from restaurant to restaurant.
A common type of liability coverage is communicable disease coverage. This protects you if employee hygiene causes a customer to get sick. It's pretty straightforward, and most independent insurance agents will recommend you get it.
Aside from this general coverage, there are other policies you can add on. The most common is for liquor liability. If you serve, brew, or distill alcohol – or even think about doing any of the above – you need liquor liability coverage. It protects you if a customer drinks, drives, and gets into an accident by paying for property damage and bodily injuries. Often, liquor liability coverage is more common for smaller restaurants, because larger restaurants have stricter serving policies in place to minimize the cost of this coverage. Regardless, it's something you should discuss with your independent agent.
Then there's directors and officers liability. If it sounds corporate and a bit fancy, that's because it is. The gist is that stockholders (if you're public), employees, or cities can sue your company if they feel you've made a bad business decision. There doesn't have to be an injury, either. A lot of restaurants don't have to worry about this, but it's worth mentioning.
Ready to Save On Restaurant Insurance?
Our independent agents shop around to find you the best coverage.
Oregon Dram Shop Laws
Oregon dram shop laws mean that people who are injured by a minor you served or an adult you knowingly overserved can sue your restaurant.
Specifically, Oregon law allows an injured person to hold an alcohol vendor liable if the person can prove, by clear and convincing evidence, that:
The vendor provided alcohol to someone who was visibly intoxicated, and
The injured person did not substantially contribute to the intoxicated person's state of intoxication
A "substantial contribution" is anything from actually buying alcohol for the intoxicated person, to encouraging the intoxicated person to buy or drink alcohol (i.e., providing money for drinks). You're also on the hook if you serve alcohol to minors.
Dram shop laws are important, and will affect your liquor liability. Discuss this with your independent agent to ensure that you're covered against every potential risk.
Ready to Save On Restaurant Insurance?
Our independent agents shop around to find you the best coverage.
Protection for (and against) Employees
One type of employee-related restaurant insurance is required in Oregon, and it's workers' compensation coverage. Workers' compensation covers the cost of medical expenses, lost wages, and rehabilitation if an employee is injured on the job.
Employment practices liability insurance is another type of employee-related insurance. It's optional, but it'll pay for lawsuits that could be brought against your company and any officers because of problems like bad behavior, sexual harassment, discrimination, or a hostile work environment.
Features Can Change Your Oregon Restaurant Insurance
Features are things like buffets, drive-thru windows, and offering carry-out vs. sit-down service. Some of these features will change coverage and costs and what you need, but not all of them do.
Things like buffets are an outlier. Underwriters just have an inherent bias against them, which means that they might jack up the price of your premium just because they can. There's no rhyme or reason, other than the fact that some people just don't like buffets. Drive-thrus are similar. Sure, you'll need some additional coverage for the pavement (property coverage) and the sign (also property coverage), but it isn't likely to add much to your annual premium.
Then there are features that actually do change your coverage, like having a wait staff vs. being a carry-out restaurant only. If you have a full wait staff, you'll have more employees and this means that customers are sitting in your restaurant and dining. More employees means you'll pay more for workers' compensation, and customers in your restaurant means general liability goes up, too.
Delivery is another feature that matters. Whether you provide vehicles or your employees are driving their own, liability coverage will have to cover those vehicles. If you operate a food truck, you'll need to extend liability coverage for that, too. One catch here is that while buying vehicles outright might cost your business more right now, it's typically better than insuring your employees' cars. Because let's be real: When's the last time you saw a real slick delivery car driving around? The answer is never. This means coverage costs more.
Ready to Save On Restaurant Insurance?
Our independent agents shop around to find you the best coverage.
How Much Does Restaurant Insurance Cost in Oregon?
Restaurant insurance in Oregon can cost a little, or a lot. It all just depends on what you're opening and all of those features we've been talking about thus far.
Let's get the basics of paying for restaurant insurance out of the way, though, shall we? It breaks down like this:
Workers' compensation: This is priced per $100 of payroll and based on your restaurant's risk classification. The sharper your tools and the more hot oil and open flames you have, the higher the risk.
Property and liability: These are typically lumped together.
Now comes the fun part: the cost. On the low end, restaurant insurance in Oregon can cost as little as $10,000 annually. But before you start your next online shopping spree with all that money you'll supposedly save, think of this: $10,000 in annual coverage is good if you're operating a corner hotdog stand. You have virtually no property, little to no risk, and a handful of employees, if that. This also makes a corner stand or food truck the cheapest and safest type of restaurant you can open.
On the opposite end of the spectrum is $100,000 in annual costs. This is for multi-location restaurants that have lots of property, lots of risk (think dine-in), and lots to lose, generally speaking. It's no wonder these are the priciest and riskiest restaurants to start. And they might also be restaurants with special value property, like paintings. But keep in mind that you have to get these appraised if you're expecting replacement value. And, of course, your independent insurance agent can help with all of these factors and considerations, too.
Talk to Your Independent Insurance Agent
An independent insurance agent is your new best friend. You don't have to do everything with them, but you do need to talk to them about your restaurant insurance in Oregon. That way, you'll know all of your coverage options, what you need, what you don't, and everything in between.
The best part of having an independent insurance agent is that they do all of the heavy lifting for you. They'll get you a policy at a price that makes sense with all of the coverage you need. And the more you discuss your policy and the unique features of your Oregon restaurant with your agent, the smoother the process will be.
TrustedChoice.com Article | Reviewed by Paul Martin
©2023, Consumer Agent Portal, LLC. All rights reserved.