Virginia Workers' Compensation Insurance
Your Guide to Workers' Comp Insurance in Virginia
Learn all you need to know about finding the right workers' comp for you.

About $139 million in workers' comp claims have been paid out in the state of Virginia over the past few years. Injuries and illnesses in the workplace unfortunately happen frequently, from minor falls to chronic diseases, but having the right workers' comp coverage can help protect your business. For help navigating workers comp insurance coverage, find a local independent agent.
Workers' Compensation Coverages/Non-Coverages in Virginia
After a workplace injury, employees need all the help they can get covering their medical bills. Workers' comp not only protects employees from unexpected medical expenses, but also offers critical protection for employers against employee lawsuits stemming from these incidents.
Here's a simple breakdown of what workers' compensation covers and does not cover in the state of Virginia.
Workers' comp covers the following:
Occupational illnesses and diseases
Traumatic injuries
Injuries caused by repetitive motion
Various mental injuries and illnesses
Check out this real-life example of coverage:
A tour guide in a historic Virginia house comes down with an illness due to their job environment. The worker requires ongoing medication and doctor's visits. The right workers' comp policy would help pay for any related medical treatments and other costs.
Workers' comp insurance excludes the following:
Employee illnesses or injuries that happen outside of work
Injury or illness to intoxicated employees
Intentional or malicious acts by employees
| | | |
| --- | --- | --- |
| Workers' Compensation Coverage | Covered | Not Covered |
| Traumatic injuries | | |
| Repetitive-type injuries | | |
| Certain mental injuries | | |
| Occupational diseases | | |
| Employee illnesses or injuries sustained outside of work | | |
| Accidents that occur while an employee is intoxicated | | |
| Intentional employee injuries to themselves at the workplace | | |
An independent insurance agent can further break down what workers' comp covers and doesn't cover in Virginia.
Why Do You Need Workers Compensation Insurance in Virginia?
Without workers' comp, your business could end up in a world of trouble, financially and legally. Workers' comp is actually required by law in most states, for starters. Without coverage, your business could end up facing fines, jail time, or worse.
Often, your business is required to have this coverage right away when hiring its team. It's necessary to be equipped with workers' comp protection before any workers have a chance to get injured or ill on the job. Without coverage, your business is vulnerable to employee lawsuits stemming from job injuries and illnesses.
What Consequences Could You Face if You Don't Have Workers' Compensation in Virginia?
Many businesses make the mistake of viewing workers' comp insurance as an optional coverage, especially if their operations are arguably safe. However, businesses without this coverage can be shut down by the state, or face hefty fines or jail sentences.
In Virginia, workers' comp is mandatory for businesses with more than two employees. Businesses that fail to obtain the necessary coverage can be subject to fines of $250 per day that they lack coverage, up to a maximum fine of $50,000.
What Are Virginia Workers' Compensation Laws?
In Virginia, all business with more than two employees, whether full-time or part-time, are required to offer workers' comp. Failure to carry this coverage can result in expensive fines. Your business can be fined $250 per day it lacks coverage, up to $50,000 in total penalties.
Without workers' comp, not only is your business vulnerable to fines, but also to employee lawsuits. If you fail to offer workers' comp to your team and an employee gets injured on the job, they can press charges against you. The employee's family can also sue your business, if you fail to offer the necessary workers' comp insurance.
How Much Does Virginia Workers' Comp Cost?
Virginia workers' compensation insurance is more expensive for businesses with a higher risk of occupational injuries or illnesses. Workers' comp premiums are factored based on how many employees a business has, the types of jobs the employees perform, and the business's history of workers' comp claims.
The National Council for Compensation Insurance (NCCI) assigns classification codes for each occupation in Virginia. These class codes are assigned a base rate for workers' comp. When determining the total premium, the employer's annual payroll at the beginning of the policy period gets divided by 100, then multiplied by the base rate.
Consider the following example:
Premium: $100,000
Mod: 0.70 (30% premium credit)
Premium with mod credit applied: $70,000
Premium: $100,000
Mod: 1.0
Premium is not adjusted
Premium: $100,000
Mod: 1.30 (30% premium surcharge/debit)
Premium with mod debit applied: $130,000
For many Virginia businesses, they'll have employees that fall into more than one classification. These classifications and associated premiums get combined to determine the business's total workers' comp premium.
Virginia Workers' Compensation Base Rate Examples
Virginia bases its workers' compensation rates on NCCI guidelines. The state assigns a minimum and maximum rate for each industry classification. While the NCCI sets a base rate for each class code, rates will vary by insurance company underwriting standards.
Consider the following sample base rates (rate per $100 of employer payroll):
0042 Landscaping: $6.78
5183 Plumbing: $4.65
5645 Carpentry/Construction: $14.88
8017 Retail Store: $1.91
8810 Clerical: $0.14
9082 Restaurant: $1.62
Get a Workers' Comp Quote in Minutes
Let our independent agents do all the heavy lifting while you save.
Workers' Comp Cost Per Employee in Virginia
Workers' comp costs per employee increase with higher company payrolls, since these businesses are more expensive to insure. Here's a breakdown of how workers' comp costs vary by payroll range in each specific industry below.
Annual Workers' Comp Cost Per Employee
| Industry | Lower Cost | Medium Cost | Upper Cost |
| --- | --- | --- | --- |
| Construction | $1,849 | $3,543 | $13,556 |
| Finance and Insurance | $609 | $1,099 | $4,023 |
| Hotels / Motels | $446 | $1,003 | $4,237 |
| Manufacturing and Food Production | $790 | $1,502 | $5,710 |
| Professional and Technical Services | $571 | $1,131 | $4,425 |
| Real Estate | $103 | $205 | $802 |
| Restaurants and Taverns | $181 | $404 | $1,701 |
| Retail Trade | $349 | $669 | $2,560 |
| Transportation and Warehousing | $1,362 | $2,682 | $10,455 |
If your business has a greater track-record of safety and fewer accidents, it's likely to pay less for workers' comp coverage. However, insurance companies have complex formulas and will reset your rates after an accident, most likely leading to a noticeable spike in your premiums.
Best Workers' Comp Companies in Virginia
Workers' comp is available from many different insurance companies in Virginia. Here are just a few of our top picks for quality workers' comp insurance carriers.
An independent insurance agent can help you look into these workers' comp insurance companies and get matched to the carrier who best meets your needs at the most affordable rate.
Top 6 Most Common Workers' Comp Claims/Injuries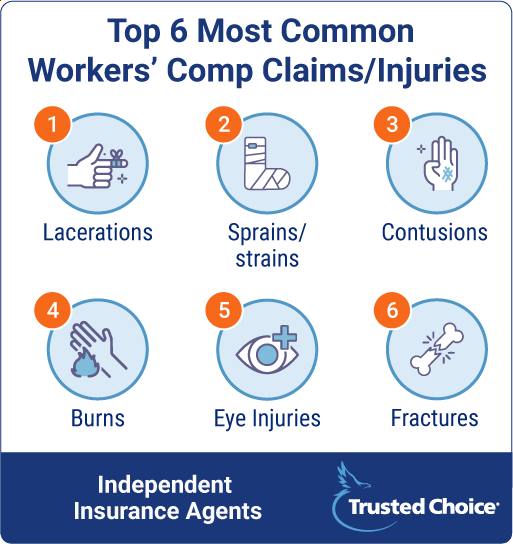 Lacerations: Especially common in the restaurant and manufacturing fields, deep cuts can happen to employees in any industry.
Sprains/strains: Especially common in job settings where lots of twisting and turning is required, sprains and strains can also happen to employees in any industry.
Contusions: Usually stemming from dropped objects, improper lifting, or collisions, contusions leave painful bruises or other marks on the skin.
Burns: Especially prevalent in restaurants, construction businesses, bakeries, etc., burns can happen to workers in any business that has a heat source.
Eye injuries: Most frequent in industries that require chemicals like manufacturing, painting, and construction, eye injuries can happen in a variety of fields.
Fractures: Especially common in industries that require a lot of movement and the use of heavy machinery, fractures can also happen to employees in any industry.
Why Are Independent Insurance Agents Awesome?
It's simple. Independent insurance agents simplify the process by shopping and comparing insurance quotes for you. Not only that, but they'll also cut the jargon and clarify the fine print, so you know exactly what you're getting.
There's no business too small for our independent insurance agents. They have access to multiple insurance companies, ultimately finding you the best workers' comp coverage and competitive pricing while working for you.
TrustedChoice.com Article | Reviewed by Paul Martin
©2022, Consumer Agent Portal, LLC. All rights reserved.
https://workcomp.virginia.gov/sites/default/files/documents/Workers-Compensation-Information-Sheet-for%20-Employers.pdf
https://www.employers.com/blog/2019/7-common-workers-compensation-claim-injuries/