How to Insure Hobby Farm Livestock
(And what you need to know about your furry friends.)

If your hobby farm has livestock, you may be wondering just how to insure it all. After all, they are living, breathing animals. Don't worry about it, an independent insurance agent can help walk you through it all and even discover a few things you may have never expected.
Your independent insurance agent is a knowledgeable resource when it comes to insuring all aspects of your hobby farm, including your livestock. But before you have that conversation, here's a bit of background to give you a better understanding.
Understanding Livestock Insurance
Cattle and other livestock face mortality risks caused by accidents, sickness and disease. There are blanket coverages that apply to most livestock and poultry, and specialty coverages for specific groups of farm animals, such as cattle, sheep, goats, pigs, hogs, chickens, and even emus.
The starting point for your hobby farm will probably be farm or farm operations coverage and a limited animal mortality policy. Normally, these can be combined into a hobby farm insurance package that will protect your facilities, structures and livestock or poultry in the event of death caused by accident or injury.
Some insurers may include a more comprehensive animal mortality policy that includes sickness and disease, or policy options for a specialized type of animal. There are three ways to cover your animals:
Individual coverage: This insurance usually covers higher-value animals on an individual basis. The animals are listed on the policy according to some identifying marker or description, such as an ear tag, and covered for a specific dollar amount.
Blanket coverage: This type of policy allows you to insure all your hobby farm property for a predetermined value. It includes structures, equipment, tools and livestock.
Herd Coverage: This is the simplest and most prevalent type of insurance for livestock. This coverage allows you to insure a specific number of animals, for example, 10 dairy cows or 10 goats.
Your per-head cost will be determined by the coverage you choose. Obviously, the per-head price for an individual policy will be more than the per-head cost of a blanket or herd policy. Keep in mind that some hobby farm policies may cover certain broad perils, but exclude sickness and disease. Make sure you understand the details of your coverage.
How to Insure Your Hobby Farm's Livestock
Insuring your hobby farm is one thing, but your livestock? How does that even work, you may be wondering, but there are policies for your animals. Protecting them is key to making sure your hobby farm is successful, even if you're doing it in your leisure time.
You'll want to start by having your independent insurance agent look at pricing and coverages for your livestock's specifications. So whether you have a prize-winning steed or your typical Prime beef, your coverage needs to apply adequately.
Your independent insurance agent will need to know the following to get started:
Your herd's specifics: What are they? What are they registered as? What will you be doing with them?
What is your livestock worth? This isn't the sentimental worth, this is the value you can get in the marketplace for them and the replacement cost if something happened to them.
What preemptive protection do you have in place? Is there proper fencing? Do you have a way for the livestock to avoid predators? How do you keep them healthy?
Save On Farm Insurance
Our independent agents shop around to find you the best coverage.
When to Insure Your Livestock
Now. That's the best way to put it. If you have livestock already and they aren't insured, then you'll need to get a policy in place as fast as you can get your independent insurance agent on the line. If you're looking at acquiring livestock and don't have them in your possession quite yet, then coverage will depend on who still technically owns them. Discussing with the seller whose insurance policy would pick up coverage while the livestock is in transit and before they are actually passed off to your hobby farm is a key conversation to have.
Cost of Insuring Your Livestock
Let's take a moment to look over some cold, hard facts on livestock values throughout the United States. For cattle alone, the value is over one hundred million dollars. While your hobby farm may be a tiny piece of this pie, you'll still be interested to know how much that pie costs.
Statistics for Cattle, Hogs and Sheep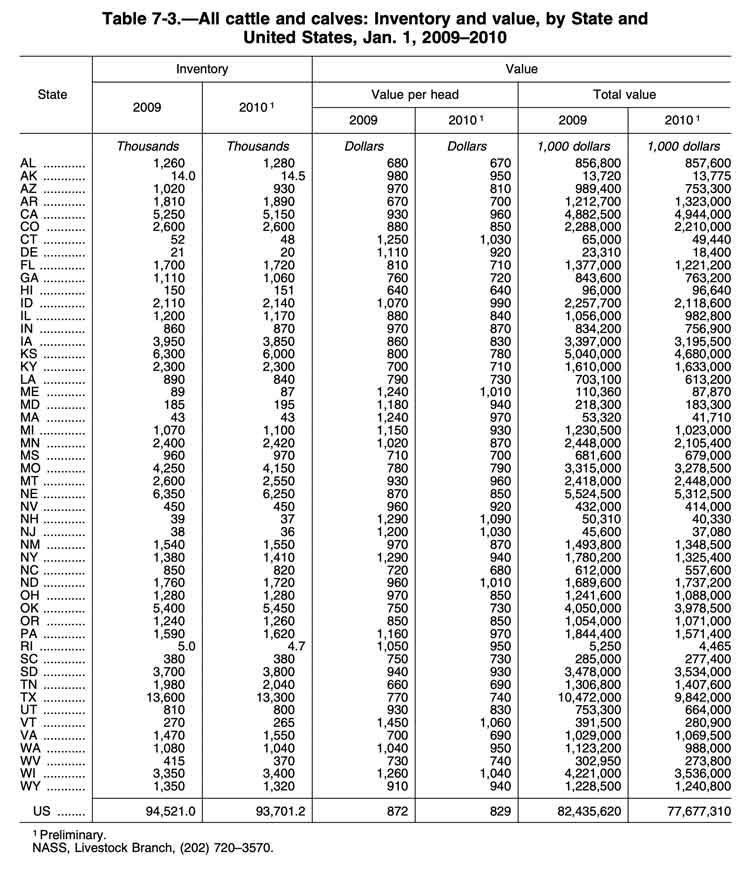 Now that you know how much one study calculated in value for one short period, then you can imagine why insurance is such an important thing to have on your livestock. The cost of insuring them, however, all depends on your livestock's specifics, like what they're worth and how much coverage you need exactly. Every hobby farmer has different needs, and that means different premium pricing. Speaking with your independent insurance agent will get you better estimates on coverage and pricing.
What Does and Doesn't Livestock Insurance Cover?
When it comes to insuring your livestock, you should now have a pretty good idea of what goes into it. Now you need to know what the policy will actually cover and what it won't.
What your livestock insurance generally covers:
Accidents: This can be anything from coverage for electrocution, fire, or smoke, to loading and unloading of livestock.
Natural disasters: Volcanic eruptions and sinkholes. Typically, floods and earthquakes are covered under a separate policy.
Weather events: Lightning, wind, hail, tornadoes and more.
Crimes and civil unrest: This is for your theft and vandalism of livestock.
Collision or other death while transporting: This is your in-transit coverage for your livestock.
There is typically an endorsement or included coverage, depending on the carrier, for the following:
Accidental shooting
Drowning
Attack by wild animals
The collapse of a building on livestock
What your livestock insurance doesn't cover:
Old age
Death by natural causes
Disease
Livestock Liability Insurance
If you're found to be responsible for your animals causing bodily injury or property damage to other people or their property, you'll have coverage under the liability portion of your livestock policy. Between that and all the other coverages your hobby farm policy provides, it looks like you'll be in pretty good shape.
Your independent insurance agent can discuss all facets of your hobby farm and livestock policies, making sure you've got the proper coverage in every area.
The Benefits of an Independent Insurance Agent
Independent insurance agents have access to multiple insurance companies, ultimately finding you the best coverage, accessibility and competitive pricing while working for you. And as your needs change, they'll be there to help you adjust your coverage, up or down, to make sure you're properly protected without overpaying. Find an independent insurance agent in your local community here.
TrustedChoice.com Article | Reviewed by Candace Jenkins
©2023, Consumer Agent Portal, LLC. All rights reserved.
https://www.statista.com/study/70434/facts-and-figures-on-agriculture-in-the-us-2019/