Louisiana Restaurant Insurance
Food this good requires the protection to match.

Louisiana is a seafood staple destination in the United States. In fact, you'd be hard-pressed to find a restaurant that isn't serving up oysters, fish, and everything else the Gulf of Mexico has to offer. No matter what type of seafood you're serving up, or whether you serve up seafood at your Louisiana restaurant at all, you have something in common with every other restaurant: You need insurance. And when you need insurance, you need to know your risks. You're best resource for finding out what you need is an independent insurance agent.
Risks in Restaurant Insurance in Louisiana
In fact, insurance coverage and costs for your restaurant in Louisiana will differ based on any number of factors. Some of the most common include:
The food you serve
How you cook/prepare the food
Whether you're a dine-in or carry-out restaurant
What property you put in the restaurant
What special property is inside (or outside) the restaurant
The short of it is that you'll need insurance. With the help of an independent insurance agent, you can navigate the general and specific coverage you need. This way, you'll pay the best price for your bottom line while getting your business all of the protection it realistically needs. With the right background knowledge, you get to be more prepared to speak to your independent insurance agent about your insurance needs, too!
Restaurant Insurance 101: There are Three Types of Coverage You Need
Before we get into Louisiana state-specific coverage options, it's important that you understand the basic background for insuring your restaurant. That being said, there are three types of insurance you'll need:
Property coverage
Liability coverage
Employee coverage
Within each category, there are general policies that cover broad issues and more specialized policies that you may want to purchase depending upon your restaurant, risks, and needs. We'll dive into the most common options to give you a good basis to work off of.
Property Coverage in Louisiana Restaurants
Property coverage will provide you with the replacement value of two types of property if there is a covered loss:
Your building
Movable property inside the building
By movable property inside the building, we mean things like furniture, décor, flatware, and anything else you can physically move. This might seem like an odd distinction, but it's an important one for property coverage. After all, most restaurants have immovable personal property, too. By immovable, we mean things that are bolted down. This is generally applicable to kitchen equipment but may also include furniture built-ins like booths or bars.
You'll almost always need additional, special coverage for this sort of immovable property. That being said, it's an important point to bring up with your independent agent. In addition to immovable property coverage, there are other specialized policies available. These policies include coverage of things like:
Lost business income: Restaurants have kitchen fires or other disasters (such as hurricanes) that force closures for repairs to be made. When that happens, lost business income coverage will provide you with money to cover expenses, including employee salaries. While this is optional coverage, some banks require it if you're taking out a loan for your business.
Signs: You may not have a fancy or expensive sign. But if you do, and if you operate a drive-through with an additional sign, you may want additional policy coverage. After all, some businesses spend up to $100,000 on the sign alone!
Spoilage: You're probably buying fresh food for your restaurant because you're on the coast. However, this doesn't mean you don't keep the food in your refrigerator or freezer. Spoilage covers the cost of your spoiled food, meaning you don't lose money should something happen.
Equipment (boiler and machinery) damage: An equipment failure can cause damage to wiring, your HVAC set-up, or other systems. Equipment coverage pays for the repairs needed due to failed equipment, but not for the cost of the equipment itself.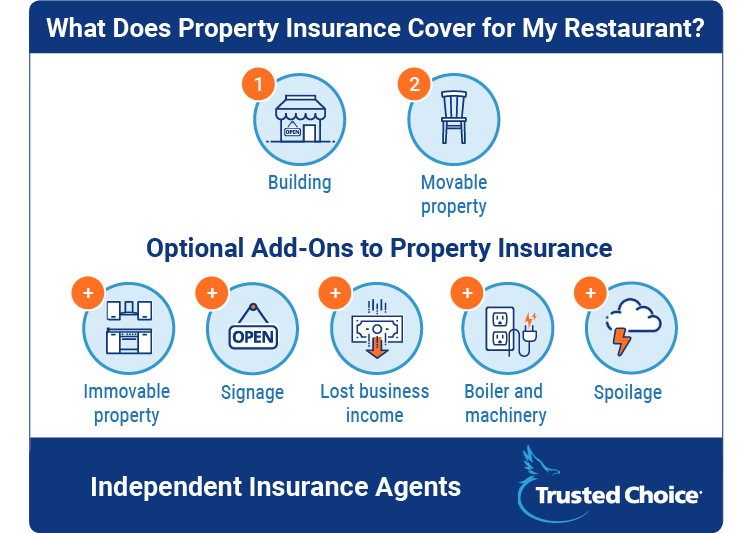 Commercial General Liability Coverage in Louisiana Restaurants
General commercial liability coverage is just that: It's general. It covers issues that arise with your customers while they're at your restaurant. Typically, this happens in one of two ways:
Your customers have an accident while they're at your restaurant
Your customers eat spoiled or contaminated food and become ill
Liability coverage is for things like slip-and-fall accidents, food-related illness, and basically anything else that could happen to a customer while they're at your location. However, one important point to note is that a general policy doesn't cover liquor-related incidents. Likewise, it won't cover the costs of a lawsuit brought against your directors and officers should they be sued for making a poor business decision.
That being said, liquor liability coverage is the most common specialized liability add-on policy. You must purchase this policy if you sell, brew, or distill alcohol in any way. Otherwise, if a customer has an alcohol-related accident, you're on the hook for any property damage and bodily injury they cause. A standard liquor liability policy has a $1 million policy limit. However, a lot of restaurants up this coverage to $5 million, because alcohol-related incidents could potentially destroy a restaurant if they are deadly.
Officers and directors liability coverage is a more common add-on policy for larger restaurants or restaurants with multiple locations. It kicks in when a stockholder, an employee, or a city sues a restaurant for making what they claim is a poor business decision. When the lawsuit is brought, there doesn't have to be any particular type of damage, either. In fact, a lawsuit can be brought before there's been any "damage" at all. The benefit is that this pays for litigation costs, which can be pricey, especially when lawsuits are drawn out.
Employee Coverage in Louisiana Restaurants
Employee coverage is twofold: one type is legally required and the other is optional. You are legally required to purchase workers' compensation insurance for your Louisiana restaurant. Workers' compensation is a type of insurance that kicks in when an employee is injured on the job. It pays for a few specific types of expenses:
Medical bills
Rehabilitation costs
Income lost during the time the employee cannot work due to the injury and rehabilitation
Employment practices liability insurance is an optional type of employee insurance. It protects your restaurant and the restaurant's officers from litigation costs if an employee sues for:
Sexual harassment
Hostile work environment
Discrimination
Bad behavior
Litigation costs can put a serious strain on a restaurant, especially when a lawsuit is dragged out. That being said, it's important that you seriously consider whether the additional cost is worth the peace of mind. Again, this is the perfect type of consideration to bring up with your independent agent when it comes time to get a policy.
Ready to Save On Restaurant Insurance?
Our independent agents shop around to find you the best coverage.
Factors That Affect the Cost of Your Restaurant Insurance in Louisiana
How you structure your restaurant will affect how many employees you have, how much liability your restaurant carries, and the general risk that can increase insurance costs. While this is in no way a comprehensive list of all of the features that may affect your restaurant insurance, it does include the primary components an underwriter will consider when it comes time to write your policy.
Buffets: Underwriters typically have a bias against buffets. They're generally badly maintained and can increase liability in terms of food-related illness. Though there isn't necessarily any proof of this, bias is enough to increase the cost of your insurance if you happen to have a buffet.
Dine-in vs. carry-out: The biggest difference here is the number of employees. If you're running a dine-in restaurant, it's probably larger than a carry-out restaurant and requires more employees. More employees mean you'll pay more for workers' compensation insurance.
Delivery: Delivery brings liability concerns to the table. However, costs will differ depending on whether you allow employees to use their own vehicles for delivery or you purchase your own vehicles for employees to use. As a rule of thumb, providing vehicles for employees will result in lower liability insurance costs because underwriters can better evaluate the vehicles for risk since the cars will likely be newer and you'll have full knowledge of any issues with them. If you allow employees to use their own vehicles, there is more uncertainty and you'll probably pay more in liability coverage.
Drive-through windows: The idea that a drive-through has insurance implications just isn't true. The only way a drive-through affects insurance is if you have a pricey sign that comes along with it. This is something you would need to pay extra for on your property insurance.
Keep in mind that this is not a comprehensive list of factors. But they should get you thinking about how your restaurant is set up and how that may affect insurance costs for your Louisiana restaurant.
Why Your Louisiana Location Affects Insurance
There aren't many state-specific differences in insurance. However, for the differences that do exist, they revolve around factors like:
The food you serve
How you serve it
Oysters are a big issue in Louisiana. During the summer, the water in the Gulf of Mexico can breed bacteria and other health-related issues with oysters. That being said, restaurants should serve them cooked, never raw, during the summer months.
DID YOU KNOW?
If a restaurant makes a mistake and serves a raw oyster from the Gulf during the summer and a customer gets sick, that's a liability policy concern.
This sort of concern also extends to seafood generally. Seafood can make people sick if it's stored or prepared improperly. This will all affect liability policy costs. Deep frying is another concern. Deep-fried food means hot oil in the kitchen, and hot oil in the kitchen means risk goes through the roof. This will affect the cost of your workers' compensation insurance because that policy is priced according to the risk classifications for your employees. Add in sharp utensils used to handle things like oysters, and you're looking at a higher workers' compensation policy. Again, your Louisiana location may not affect insurance if none of the above applies to you. But if it does, it's something you should keep in mind when you're shopping for policies.
Pricing Restaurant Insurance in Louisiana
You'll pay two separate costs when it comes to your Louisiana restaurant insurance:
Property and liability
Workers compensation
The reason these are separated is because workers' compensation is priced differently than property and liability coverage. In fact, there are two factors that determine the cost of your workers' compensation coverage:
Your overall payroll (every $100 of payroll increases the cost)
The risk classifications for your employees (how dangerous it is for them in the kitchen)
The risk will be greater primarily in the kitchen. Hot oil and sharp knives typically mean you carry more risk and will have higher rates as a result. This is because employees are more likely to injure themselves if they're surrounded by dangerous substances and utensils. Property and liability coverage can cost anywhere from $1,000 annually to $100,000 or more annually. This difference is due to a lot of the factors that we've mentioned throughout this article, such as:
Location: Is it one restaurant, or many? More restaurants = more liability and property coverage needs.
Risk: If you're operating a corner taco stand or a food cart, the liability looks a lot different than a restaurant with sophisticated, dangerous equipment in the back.
Property: A cart or stand is worth a lot less than a building
Of course, coverage might be more expensive if you have specialty property in your restaurant. Remember, property coverage is the replacement value. If you have a painting that is worth a lot of money hanging in your restaurant, you need to get it appraised to get a fair price for its replacement. These are all precautions your independent agent will discuss with you.
Talk to an Independent Insurance Agent about Restaurant Insurance in Louisiana
To run a successful restaurant in Louisiana, you'll need property, liability, and employee insurance coverage. And the best way to get the protection, and price, you need is with an independent insurance agent. Our independent insurance agents aren't tied down to any one carrier. This means they have the freedom to shop around and bring more coverage options to the table for you. Then they'll help examine your restaurant, talk about your goals, and walk you through all the important details of your policy in plain English because you should know as much about your coverage as we do. Right?
TrustedChoice.com Article | Reviewed by Paul Martin
©2023, Consumer Agent Portal, LLC. All rights reserved.