Arizona Hotel Insurance
Because you know there's more to this state than the desert.

You're ready to provide guests with a luxury hotel stay in the Grand Canyon State, but before you can light up that "Vacancy" sign, you need the proper hotel insurance to protect your property, employees, and guests.
Seeing as tourists flock to the state because they can get everything from sunshine and snow to forest and desert, the location of your hotel will greatly affect the insurance you need. Fortunately, our independent insurance agents can help break down all the insurance options in Arizona so you can keep your occupancy rate high and your insurance rate low. But before we do that...
What Is Hotel Insurance?
Hotel insurance is insurance that covers the basic needs of a hotel (i.e., protection for property, guests, furniture, amenities, risks, etc). Since hotels require robust insurance policies, insurance agents will build a perfect policy package filled with general liability and property coverage and individual add-ons customized to meet the needs of your hotel.
What Types of Hotel Businesses Need Insurance?
The easy answer is: all of them. Every business should have its property and employees protected. And in your line of work, dealing with as many customers as you do, it's extremely important to keep your business going strong. Our independent insurance agents can help all types of hotel businesses, including:
Premier and full service hotels: These hotels require the most comprehensive insurance packages, due to having such high occupancy spread across several hundred rooms, as well as offering tons of different services and amenities.
Boutique hotels: With much lower occupancy rates, typically fewer than 100 rooms, and the lack of premier services or amenities (e.g., room service and fitness centers), these hotels carry less risk and don't require quite as much coverage.
Condo hotels: These high-rise properties consist of rooms typically owned as vacation homes that are rented out for short-term stays. Coverage requirements vary, and are determined by the allotted length of guest stays, how the unit is owned (by an individual or group), and the location of the hotel (which is usually a major city).
Hotel management companies: Employee benefit strategies that help reduce claim costs and risk management are factors in the coverage needed by these companies.
Save on Hotel Insurance
Our independent agents shop around to find you the best coverage.
Top Why Do I Need Hotel Insurance in Arizona?
Arizona's diverse climate may be the number one attraction for visitors, but it's also the number one cause of most hotel insurance claims.
Flood damage: Lightning, rainstorms, and snowmelt often lead to flash flooding, especially in the Phoenix area.
Fire damage: One in 12 hotels reports a structure fire annually, resulting in more than $60 million in property damage.
Liability claims: These are most commonly for stolen property and minor accidents like slips and falls, but liability claims extend to any injuries or property damage.
Data breach: Hotels are a key target for cyber hackers looking for credit card information.
Business interruption: Regardless of a hotel's location, it's always prone to attacks by Mother Nature. Whether your hotel is nestled in the mountains or the valley, you run the risk of losing income no matter what type of natural disaster forces you to temporarily close your doors.
With the proper coverage in place, however, you can help minimize your risks and protect your hotel from unexpected catastrophes.
What Does Hotel Insurance Cover?
A typical hotel package will cover any general, property and crime liability as well as workers' compensation. In a nutshell, it protects everything and everyone that interacts with your hotel, and is ready to protect you in the event of an unexpected event.
After the basics, you can add any additional coverages based on the services you offer and the type of hotel you have.
Insurance coverage options for your hotel:
General liability: If someone gets hurt on the property or damages your property. Experts recommend getting up to $1 million per room in liability insurance coverage.
Workers' compensation: If your employees become ill, get injured, or die from a work-related incident, this aspect of the insurance will cover the financial ramifications. Coverage is mandatory in Arizona, as well as most other states.
Property insurance: Protection for the property inside your hotel such as furnishings, electronics, décor, carpeting and amenities. The property insurance limit for hotels is up to $250 million per location.
Commercial auto liability: Protection for any vehicles that are being used to assist in the daily operations of your hotel.
Cyber risk & privacy liability: If you have a data breach and your guests' personal information is leaked. Cyber risk and privacy liability insurance limits are up to $2 million.
Business income/interruption: If your business suddenly has to close, this provides income to help you pay your bills until you reopen.
Crime coverage: Protection if an employee or guest steals from you.
Liquor liability: Covers you if you serve liquor and a guest gets a little too tipsy from your booze and harms themselves or your property.
Food-borne illness liability: Protection against food borne illnesses that guests could receive from in-room or on-property food options.
Innkeepers liability: Pays for loss or damage to a guest's property while it is in your possession on the premises of your hotel. Usually the limit is $1,000 per guest.
Premises pollution liability: If a guest becomes ill as a result of mold or airborne pollutants, this insurance will cover medical bills, fees, and cleanup costs.
Employment practices liability: Protection against a disgruntled employee taking you to court.
Equipment breakdown coverage: Funds to repair broken equipment such as kitchen appliances, computers, heaters, etc.
Food spoilage coverage: If a bunch of your food spoils as a result of an unexpected power outage or equipment failure.
Delivery errors and omissions: Covers damages caused by failing to deliver or misdelivering items
Pollution clean-up: Covers the expenses to remove pollutants from land or water on the hotel premises as a result of an event that causes the pollution.
Utility interruption coverage: If you face a major utility outage that results in lost funds.
Umbrella coverage: Protection for excess liability charges that go above and beyond your policy limits. You can purchase up to $100 million in umbrella insurance.
Hotel guest relocation services: If you have to relocate your guests because of an on-site hazardous event.
Event cancellation insurance: If you hold a lot of events and one gets unexpectedly cancelled, this will cover lost revenue.
Your hotel insurance package will be assembled by selecting the coverages that work for your unique business from a comprehensive list of available options. Coverage limits define the maximum amount an insurance company will pay out for financial losses. Coverage applies to everything from lost business revenue to potential legal/court fees.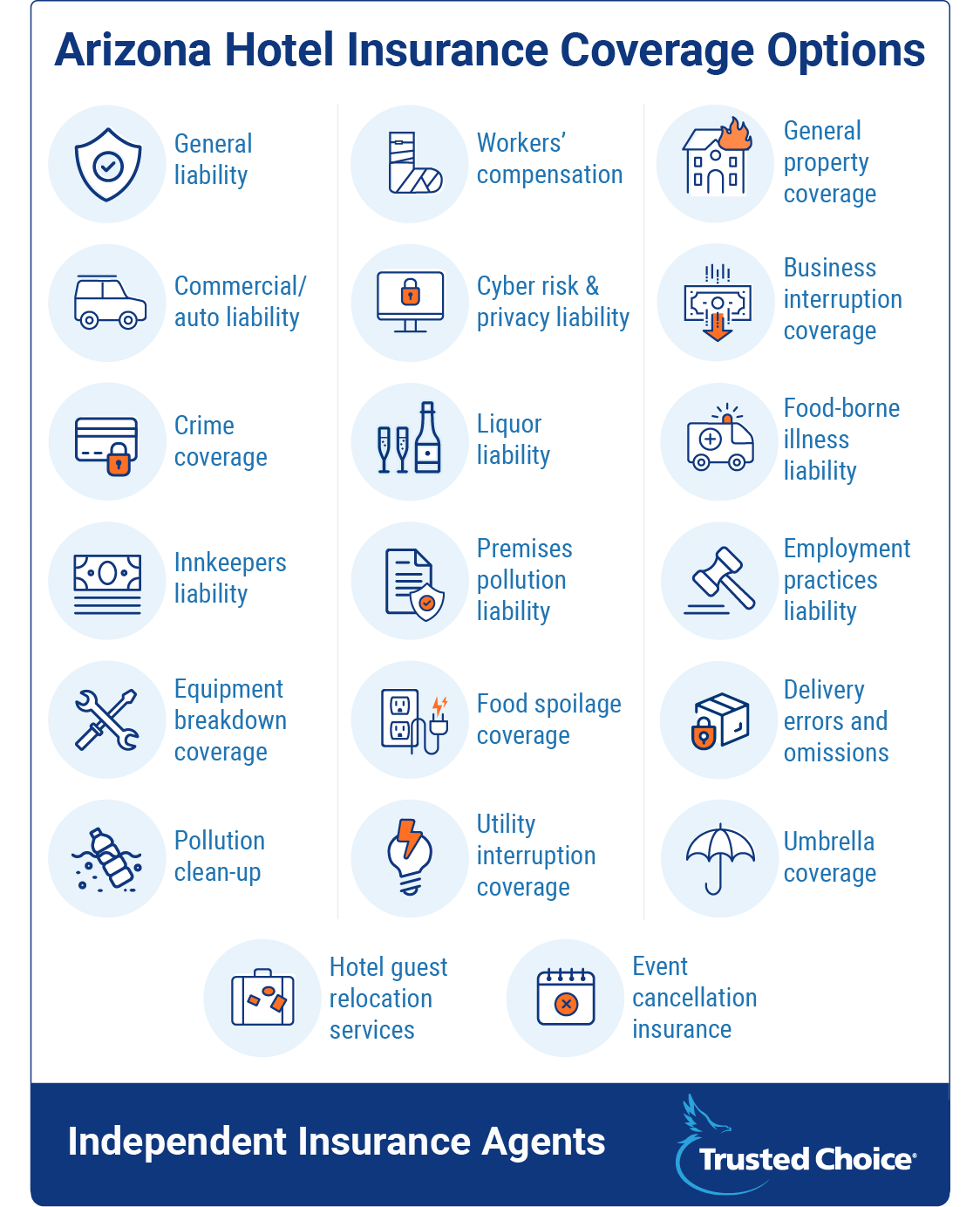 How Much Does Hotel Insurance Cost in Arizona?
Short answer? It depends. On a lot. An older inn near the coast might pay around $5,000/year. But a fancy high-rise hotel just a few miles away might pay as much as $1,000,000/year.
To make things even more interesting, if these same two hotels were located just 10 miles further inland, their premiums might drop by half. In another state altogether, further away from the coast, the tiny one might pay $1,200/year, while the big one might pay $150,000/year. Really, it all depends on a (large) number of factors, like:
The age of the hotel: The older a property is, the more of a risk it is to an insurance company. Newer hotels will get more slack with their premiums. Also, the type of construction, as well as whether the building is up to current state codes, may have been influenced by the time period the hotel was constructed in.
The location of the hotel: If the hotel is located in a region of the country prone to a certain type of natural disaster, the premium will be much higher. But costs are determined down to the specific community surrounding the hotel (if it's in a safer neighborhood, this will present less risk). Also, every state has marked flood zones in it, and these high-risk areas will have higher premiums.
The hotel's last update/renovation: The status of the building, as well as its furnishings and security systems, will really influence the cost of coverage. The more up-to-date and up-to-code everything is, the more lenient the cost.
The number of safety/security features: The more security/safety features a hotel has, the less risk it presents to an insurance company. Hotels with current security systems, as well as safety features like sprinkler systems and handicapped-compliant features, will be favored by an insurance company.
The age/condition of the roof: Older/more decrepit roofs are a higher risk to the hotel guests and the building itself, and therefore more of a risk to an insurance company.
The size of the hotel: The square footage of the hotel, as well as the number of rooms, will influence coverage costs. Obviously, more rooms means more guests, which increases liability risk, and therefore means a higher premium.
If rooms are rented out by other companies: If the hotel has community rooms that get rented out for meetings by other companies, this will increase the liability risk, and therefore costs, as well.
If there is cooking on the premises: Hotels with kitchens present a risk for fire damage, and hotels with cooking equipment in the guest rooms further increase that risk — by a ton. However, fire safety features in the rooms and kitchen can help to decrease this risk (and cost).
The parking lot's security: More security features in the hotel's parking lot can reduce the risk of claims filed by guests who experience damage or theft of their vehicles.
If there is valet parking: Valet parking is another unique feature that increases liability needs, since the guests' vehicles are literally being driven by hotel staff.
The experience level of the management: Insurance companies are interested in all kinds of details, including how experienced the hotel's managers are. Managers with more extensive training in risk prevention/crisis response can greatly reduce claims made by the property.
The type/number of recreational features: If a hotel has a pool or a gym, obviously the risk of injury (or even death) increases, creating a need for more coverage.
If the hotel serves/sells alcohol: If there is alcohol on the premises, liquor liability coverage will be necessary.
If the hotel has any existing/past claims: Just like with any other type of insurance, if a hotel has any existing/past claims, the cost of coverage will increase.
Save on Hotel Insurance
Our independent agents shop around to find you the best coverage.
Top 5 Ways to Score Hotel Insurance Discounts in Arizona
Preparation and knowledge are a killer mix for saving money on your hotel insurance. Here are just a few ways you can lower the cost of your premium.
Prepare for risk: Create a risk management plan for your guests and staff and provide this plan to your insurance agent when they're shopping for your quotes.
Maintain your roof: Roofs are one of the most expensive things to replace, and therefore one of the most common causes of increased insurance costs. Making sure the roof of your hotel is in prime condition can help save money on your premium.
Update your hotel: Old things are more likely to break and more costly to insure. Keep your hotel up to date and within county and state codes.
Have safety in mind: The more effort you can put into providing a safe environment for your guests, the lower the chances your guests will get hurt, and the less risk you are for an insurance company. Some things to keep in mind are proper smoke alarms, access points from outside, elevator safety, proper food handling procedures and general organization.
Add an indoor sprinkler system: Seeing as fire is one of the top insurance claims for hotels, equipping your hotel with an indoor sprinkler system can reduce your premium.
How to Find and Compare Hotel Insurance Quotes in Arizona
From basic packages for your average hotel, to detailed policies that include add-ons and cover unthinkable risks, our independent insurance agents will shop companies and quotes to find you the hotel insurance that best fits your needs. Basically, they'll make sure your business, your employees, your guests, and yourself are 100% covered, so all you have to worry about is providing a memorable experience for travelers.
TrustedChoice.com Article | Reviewed by Paul Martin
©2023, Consumer Agent Portal, LLC. All rights reserved.
http://adrarinsurance.com/business-insurance/hotel-insurance
https://www.liligo.com/travel-edition/7-reasons-to-visit-arizona-6968.html
https://azclimate.asu.edu/weather/weather-safety/