Hairdressers and Barbers Insurance
Because protection for your business is one thing you don't want to cut.

Hairdressers and barbers face all kinds of risks on a daily basis, just like all other types of businesses. If you're a hairstylist or barber, your clients depend on you to help them look and feel their best. But no matter how careful you may be, accidents happen.
A customer could file a lawsuit against you, costing you hundreds of thousands of dollars — or more. Fortunately, you can protect your assets, savings, and revenue with the right insurance. Independent insurance agents can help you find the right coverage for your business. But first, here's a closer look at hairdressers and barbers insurance.
US Barber and Hairdresser Statistics
When considering coverage for your industry, it's helpful to know some basic stats. Here are a few facts about the barber and hairdresser world to help put things into perspective.
As of 2011, there were about 220,000 barber shops and 210,000 beauty salons in the US.
The Bureau of Labor Statistics predicts a 13% growth in barber and hairstylist employment between 2016 and 2026
The average barber makes around $28,000 per year
The average hairdresser makes around $26,500 per year
Knowing more information about your industry can seriously help when you decide to start shopping for the right insurance for your business.
What Is Hair and Beauty Salon Insurance?
Hair and beauty salon insurance exists to protect hair and beauty salons as well as barbershops and their owners. Packages are made up of a special form of business insurance with a unique hair salon or barbershop twist. Common hazards ranging from fire damage to legal issues are accounted for in your insurance policy. Hair salon and barbershop insurance just conveniently combines several necessary coverages together in one tidy package.
How Profitable Is the Hairdresser and Barbershop Industry?
In case you're wondering just how much this industry turns over in profits, check out the graph below.
Industry revenue of "hair care and esthetic services" in the US 2011-2023 (in billion US Dollars)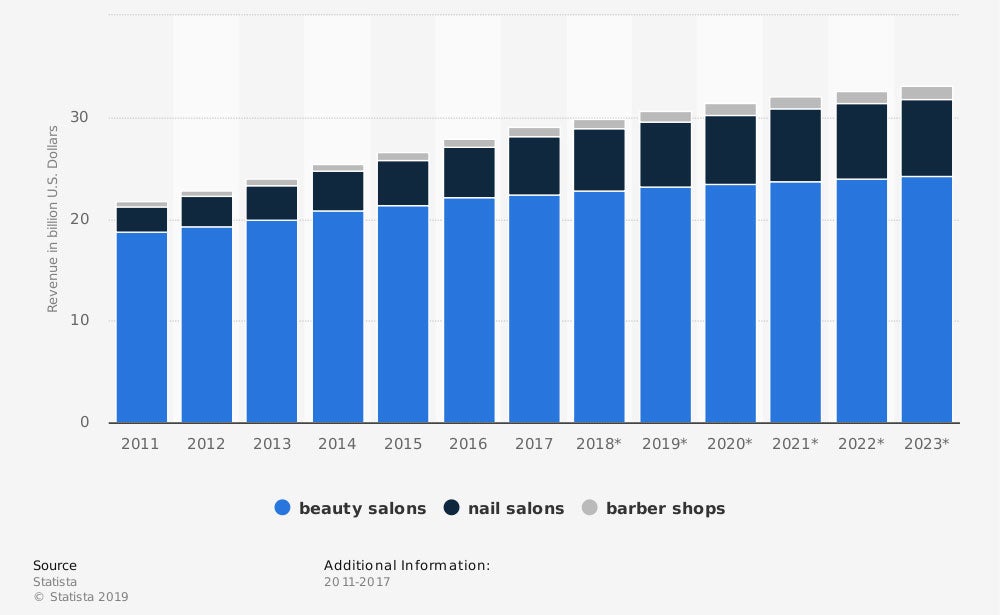 Revenue in the hair and barbershop industry seems to be steadily climbing. Back in 2011, revenue in the beauty salon industry totaled $18.8 billion, while barbershops totaled $0.54 billion. As of 2019, the beauty salon industry's revenue had grown to $23.1 billion, and barbershops had nearly doubled, jumping to $1.06 billion.
As of 2023, beauty salons are expected to pull in $24.2 billion annually, and barbershops are expected to generate $1.27 billion. With the continually increasing revenue of hair salons and barbershops, it's all the more important to get set up with the right coverage from the start.
Who Sells Hairdressers and Barbers Insurance?
Hairdressers and barbers insurance is available from many different insurance companies, and the best way to find the right carrier for you is through working with an independent insurance agent. Independent insurance agents have helped all types of customers, including those in search of hairdressers and barbers insurance. They know which insurance companies to recommend to meet your needs, and can provide informed suggestions based on company reliability, rates, and more.
While many insurance companies could create a hairdressers and barbers insurance policy for you, finding coverage could also depend on the area you live in. Here are a few of our top picks for hairdressers and barbers coverage.
One hairdressers and barbers insurance company outshines its competitors:
Best overall hairdressers and barbers insurance company: Nationwide
On top of TrustedChoice.com's 5-star rating of Nationwide, the insurance company has almost a century of experience in the industry now, and "A+" ratings from both A.M. Best and the Better Business Bureau. While Nationwide offers its hairdressers and barbers coverage under the title of salon and barber insurance, the carrier's insurance package provides numerous critical protections needed by hairdressers, barbers, and salons.
Nationwide's hairdressers and barbers insurance starts off with a business owners policy (BOP), providing essential coverages like business property insurance, general liability insurance, business income insurance, and equipment breakdown insurance. The insurance company tops off the BOP with specific coverages tailored to your business's needs, and customers can choose from the following:
Business auto insurance
Workers' compensation insurance
Errors & omissions insurance
Employee practices liability insurance
With their convenient package for hairdresser and barbershop businesses and their consistently high reviews across the board, Nationwide earns our pick as the top insurance company for hairdressers and barbers insurance. An independent insurance agent can help you decide if Nationwide is the right choice to meet your coverage needs.
Why Do I Need Hairstylist or Barber Insurance?
You work closely with your clients to help them achieve the look they want. Occasionally, a client may ask for some hot celeb hair style and wind up hating the results.
In rare cases, a truly dissatisfied client may completely skip the scathing Yelp review and decide to file a lawsuit against you for emotional distress. Even if the court determines you're not at fault, your legal defense costs alone could be financially devastating.
On top of just getting a bad cut, many of the tools you use have the potential to cause injury to clients, like curling irons, scissors, hot wax, and chemical treatments. A slip of the hand or a product malfunction could lead to an accidental injury and a claim against you.
Save on Business Insurance
Our independent agents shop around to find you the best coverage.
What Are the Risks of Not Having Coverage?
Your hairdressers or barbershop business is your corporate brainchild, and it deserves to be protected. In case you need extra convincing that having the right insurance is crucial, check out these eye-opening figures:
Small business owners pay an average of $30,000 for property damage/accident claims.
Small business owners pay an average of $50,000 for reputational harm claims.
Small business owners pay an average of $20,000 for customer injury claims, such as slips and falls.
Small business owners pay an average of $39,000 for work injury claims by their team members.
Without the right hairdressers and barbers insurance, your business would have to cover these immense costs out of pocket. Just one lawsuit or huge disaster could send your business right into the red of bankruptcy. It's critical to just be protected before ever opening your doors to the public.
Liability Coverage for Hairstylists
Lawsuits can come from a number of places you wouldn't expect and cost you your savings, assets, and future earnings — maybe even your job. But you can protect your financial future with the right liability coverage. Just a few hundred dollars per year on a comprehensive insurance policy could end up saving you so much more in the long run.
As a hairstylist, your insurance policy should include:
Professional liability: Covers emotional distress or personal injury lawsuits filed against you due to your acts as a professional. It provides financial help for settlement costs, damages, court fees, and your legal defense up to the limits of your policy.
General liability: Covers slips, falls, and other types of accidents that occur in your workspace, the client's home, or any other place where you serve your customers. It pays the injured person's medical expenses, property damage, and pain and suffering up to your policy limits, with additional coverage for legal defense.
Product liability: Protects you from lawsuits involving damage and injuries caused by products you sold to a customer.
Legal liability: Pays the costs of accidental damage to the salon or spa where you rent space for your hairdresser business.
An independent insurance agent can help make sure you get set up with all the coverage you need as a hairdresser.
Complete Coverage for Barbers
Like hairdressers, barbers provide hair cutting and, in some cases, coloring and styling, too. But unlike hairdressers, barbers are typically licensed to use a razor and provide shaving and beard grooming services. Barbers also sometimes recommend chemical hair and scalp treatments to their clients. All of these services can lead to serious accidental injury.
As a barber, your insurance policy should include:
Professional liability: Covers injury to your client due to errors and omissions in your services. It pays medical expenses, emotional damages, court fees, and the cost of your legal defense, up to the limits laid out in your policy.
General liability: Provides financial protection from lawsuits due to third-party bodily injuries (like a nicked ear or burnt scalp) or property damage suffered in your barber shop.
Product liability: Covers the expense of a lawsuit that comes about from injury or damage due to the products you sell, like special shampoos.
Workers' compensation: If you've got someone working with you, like an apprentice barber, a janitor, or any other staff in your barber shop, workers' comp coverage is essential. It pays the medical expenses and a portion of missed wages for an employee who suffers an injury on the job.
Contents coverage: If you own your barber shop or use an automobile to provide barber services in the homes and workplaces of your clients, you may need contents coverage to pay for loss or damage to the equipment you keep in your shop or vehicle.
Coverage for some policies starts as low as $200 per year, and can protect you from millions in litigation losses. An independent insurance agent can help you find the right coverage for your barbershop.
Other Coverage Hairdressers and Barbers Need
Hairdressers and barbers certainly need ample liability protection, but there are still other aspects of their businesses that need coverage. Other forms of insurance hairdressers and barbers require include:
Property damage protection: Those same disasters that could cause other issues at your hair salon could also seriously damage your property. All it takes is one major storm or accidental fire to completely demolish your shop. The commercial property damage coverage section of a hairdressers and barbers insurance policy protects your physical building against these perils and more.
Cyber liability: This coverage protects your hair salon in case its computer system gets compromised. Customers' or staff's sensitive data may be stolen and sold following a data breach or other attack. Cyber liability insurance protects against financial and legal ramifications following a breach of your network.
Product recall coverage: This coverage reimburses for fees relating to a bad batch of dyes or other products that get recalled. Coverage can also reimburse for public relations fees related to the recall to help protect your business's reputation.
Business income coverage: This coverage reimburses you for lost wages and revenue if your business must temporarily be shut down due to a covered disaster.
Commercial umbrella coverage: If your hairdresser or barber business is especially large, turns over a lot of business, and stands to face even costlier lawsuits, you may want to look into commercial umbrella insurance. These policies extend the liability limits provided by your underlying policy, and are highly affordable, too.
An independent insurance agent can help review your specific coverage needs, and ensure that you get equipped with all the policies necessary to maintain smooth operations for years to come.
Coverage for Your Home-Based Hair Care Business
If you also, or even only, provide hair beautifying services out of your home, you could be exposing yourself to a number of other risks. If you depend on your homeowners insurance to cover your in-home hairdresser or barber business, your finances and your home could be at risk.
DID YOU KNOW?
Most homeowners policies do not cover home businesses.
So, if a client accidentally slips on your front steps and suffers an injury after a haircut, your homeowners insurance may not protect you from any resulting lawsuits.
Usually you can purchase in-home business insurance as an inexpensive rider to your homeowners policy, or as a separate policy. Your in-home business policy would cover:
Inventory
General liability for slips, falls, and other accidents on-site
Damage or loss to your business property and equipment
Hairdressers and Barbers Insurance Exclusions
While hairdressers and barbers insurance provides a lot of important coverage for your business, it also comes with certain exclusions. Some of the most common exclusions are as follows:
Breakdown of major appliances
Temperature changes
Inexplicably lost inventory
Power outages
Robbery
Pollution
Routine maintenance fees
Earthquake damage
Nuclear reaction and war
Dishonest acts by staff
Flood damage*
*If your business is located in a state that's prone to flooding, you're likely to want to purchase a separate flood insurance policy. Or you might even already be required to have it by your business's mortgage lender. Your independent insurance agent can provide you with more information about finding coverage.
How Much Does Hairdressers and Barbers Insurance Cost?
The cost of your policy will vary based on several factors, like your business's exact location and your annual revenue. On average, insurance for salons, barbershops, etc. costs about $240 monthly, or $2,900 annually. But smaller businesses might pay as little as $50 per month, or as much as $1,000 or even more monthly. Your independent insurance agent can help provide exact figures and quotes for your area.
Things to Keep in Mind When Shopping for Hairdressers and Barbers Insurance
Before meeting with an independent insurance agent to discuss your hairdressers and barbers insurance options, it's helpful to keep these points in mind:
The value of your business's structure
The value of your business's inventory and products
The value of any upgrades you've made to your business
How prone your specific area is to certain natural disasters, like hurricanes
Your specific products and their risk level to the public
The size of your company's team
Considering these factors beforehand can seriously help streamline the process of shopping for the right hairdressers and barbers insurance policy.
Frequently Asked Questions about Hairdressers and Barbers Insurance
All salons need commercial property coverage, business income coverage, and various forms of liability protection. Whatever type of salon or spa you run, you'll still want to have professional liability, general liability, cyber liability and product liability coverage.
Yes, you still need insurance if you run your business out of your home. Standard homeowners insurance excludes business liability claims, so if you run any type of business out of your home, even part-time, it's imperative to have separate coverage. You'll want to at least look into a business owners policy if your hairdressers or barbershop business is home-based.
Yes, because standard personal auto insurance policies exclude business use of your vehicle. If you run a mobile hairdresser business or make deliveries, you'll need a commercial auto policy.
Booth renters are technically small business owners, and are usually 1099 employees or independent contractors. Owners of hairdresser and barbershop businesses need to ensure that booth renters on their property are classified as independent contractors for tax purposes.
It's certainly a good coverage to consider for your business. Your drains can easily get clogged by hair and product buildup, which can lead to flooding and other water damage, or busted piping. An independent insurance agent can help you add a sewer backup endorsement to your business insurance policy.
Save on Business Insurance
Our independent agents shop around to find you the best coverage.
The Benefits of an Independent Insurance Agent
Independent insurance agents are kind of like the Google of insurance quotes. You tell them what you're looking for, and they bring in the results. And since they aren't tied down to one carrier, they're free to shop around and bring multiple policy options to the table.
TrustedChoice.com Article | Reviewed by Jeffrey Green
©2023, Consumer Agent Portal, LLC. All rights reserved.
Statista
iii.org
thesalonbusiness.com