Sports Car Insurance
(Because your insurance should be just as high-performance as your car)

A beige sedan isn't your style, is it? You like life in the fast and fancy lane. But does owning a sports car mean you need different coverage than standard car insurance affords?
Depends on the car. But yes, it does need different coverage and an independent insurance agent is exactly what you need to get set up with the right kind of protection.
Now just so you know, there's really no such thing as sports car insurance. What you're getting is actually an auto policy that's tailored specifically to the needs of a high-valued, and more risky ride.
Luckily, an independent insurance agent can help you find the right protection for your sports car at the perfect price. But first, here's a bit of background on the insurance you need to protect your hot rod.
What Do Insurance Companies Classify as a Sports Car?
There are several key factors that insurance companies consider when it comes to defining a sports car. Most providers evaluate this on a case-by-case basis, though some are the same from one carrier to the next.
Common factors that define a sports car:
Make and model: The brand of vehicle and how it runs is one of the main determining factors.
Cylinders and horsepower: More speed and power often leads to more accidents, raising the risk factor.
Price: Cars with higher price tags can assume higher rates due to the cost to repair or replace.
Height and weight: Generally, sports cars have a lower profile and weigh less, making them quick and highly maneuverable.
According to Statista, sports cars include passenger cars of an average footprint around 44 ft2 (4.1 m2), an average mass around 3450 lbs (1565 kg), and are usually two-seaters that are designed for quick response, easy maneuverability, and high-speed driving.
They're further differentiated from so-called performance cars by their luxury aspects and high price.
Some of the most common sports cars include:
Porsche
Subaru WRX
Dodge Challenger
Toyota TRD
BMW Coupe
Honda Civic Type R Touring
Audi R8 Coupe
Chevrolet Camaro
Ford Shelby
Chevrolet Corvette
Lamborghini
Ferrari
Sports car vehicle sales by make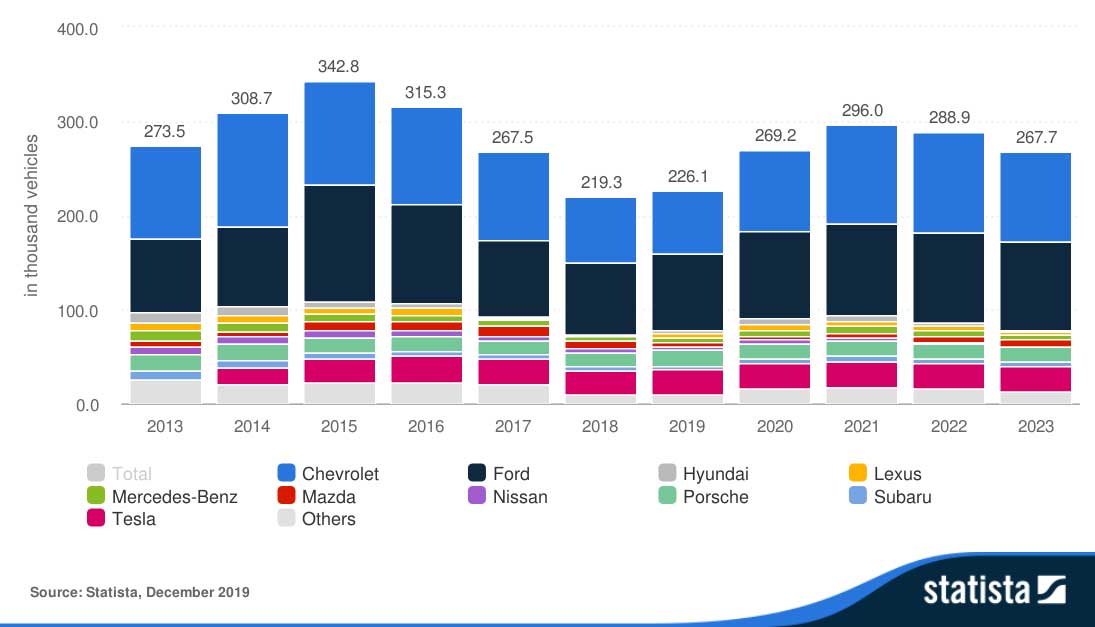 Sports cars are known to be some of the most expensive cars on the market. Most car companies have a sports model vehicle in their car lineup.
What's the Difference between Sports Car and Regular Car Insurance?
The biggest difference is the risk that's involved. By nature, when you're driving a car that has more power, you're likely to drive faster. The faster you drive, the more at risk you are to have an accident.
And since car insurance is primarily based on how your risk factor, your necessary coverages, and rates will need to increase.
Some of the common risks not typically associated with a standard vehicle include:
Performance: Any vehicle that can accelerate at a fast pace, stop quickly, and enter turns at high speed is risky for obvious reasons.
Expensive to repair: If you have a foreign or imported vehicle, just finding parts and certified repair shops can be difficult, time-consuming, and expensive.
Theft: Thieves often target sports cars, and if stolen, they're likely to cost more to replace.
Age of driver: Younger, less-experienced drivers are often more attracted to fast, sporty vehicles. And with that younger age comes an increase in the risk of an accident.
Save on Car Insurance
Our independent agents shop around to find you the best coverage.
What Does Sports Car Insurance Cover?
Just like your everyday basic auto insurance, sports car insurance will provide general collision and liability. Most full-coverage sports car insurance policies, though, will include a combination of:
While this is the typical offering of auto insurance, there are also a variety of coverages that can be added to protect against unique risks and curb out-of-pocket spending. Some of these include:
Classic car insurance: If your sports car doubles as a classic, then classic car insurance can provide a larger reimbursement if your car is damaged than standard auto insurance can.
Sound system coverage: Pays for replacement or repair to damaged or stolen sound system equipment.
Pet injury coverage: Pays for the medical treatment of your dog or cat if your furry companion happens to be in the car with you during an accident and sustains injuries.
Medical payments coverage: Pays for the cost associated with injuries to yourself or your passengers should you be involved in an accident.
Personal injury protection (PIP): Helps pay for personal medical bills after an accident and can also cover lost wages or child care expenses. PIP is not offered in every state.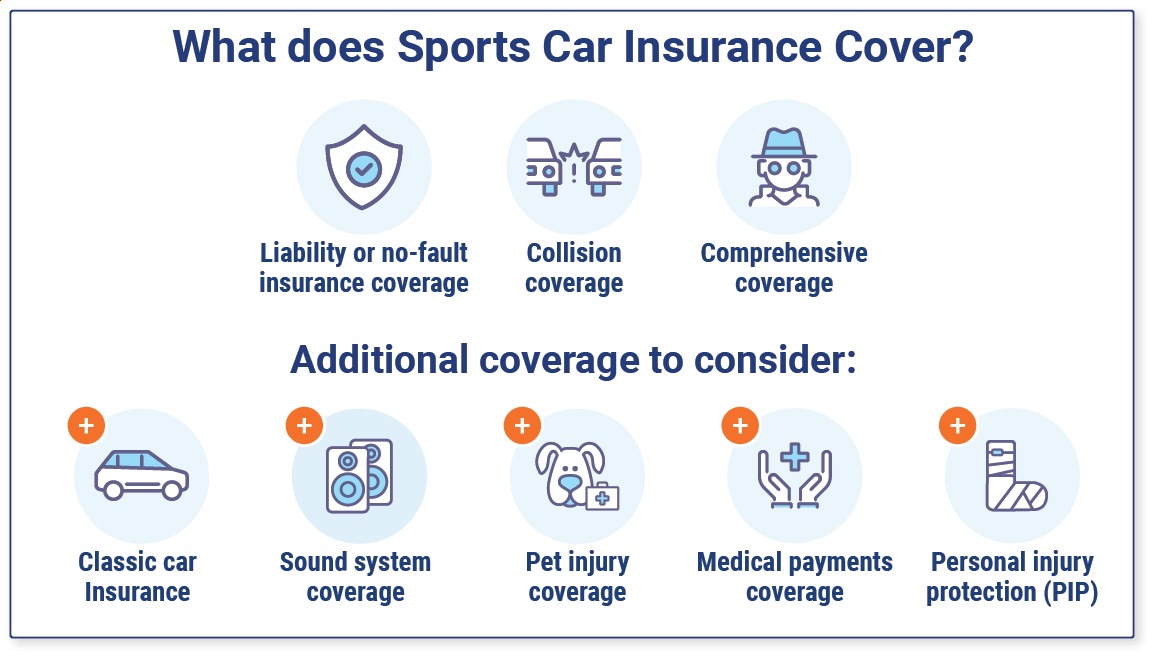 How Much Does Sports Car Insurance Cost?
Not only will the make, model, and engine size of your car affect the cost of your policy. Other factors like location, your gender, age, driving history, and how often you drive it also help determine your rates.
For example, a 40-year-old male who is driving a brand new Ferrari as his everyday mode of transportation can expect to pay hundreds more than someone the same age who drives their sports car once or twice a month.
Insurance is based highly on risk, so the more often you drive, the higher of a risk you are to your insurance company.
An average driver with a good driving record can expect to pay around $800 for a standard vehicle. Switch that to a sports car and you're looking at an average of $1500 a year.
However, an 18-year-old driving a Porsche can expect to pay even more in premiums because of their age and inexperience in driving. And if the driver has any accidents on their record, the premium can grow to several thousand for a sports car.
If you're choosing between a family minivan and a sports car, the difference in premiums will be significant. However, if you're choosing between a luxury SUV and a sports car, rates may not be that different.
How to Get Affordable Sports Car Insurance
When it comes to protecting your fancy sports car, you've already seen that the rates are going to be much higher. But with the right moves, there are ways you can help lower the cost, like:
Keep it clean: Make sure you have a good driving record and credit score
Be over 25: Once you turn 25, your rates will lower
Raise your deductible: With a higher deductible, your rates will get lower
Safety first: Make sure your car has a number of safety features like anti-lock brakes, airbags, and anti-theft
Drive it less: Use a less risky car for everyday use and only drive your sports car on special occasions
Bundle: Use one insurance company to insure all vehicles, and even your homeowners, umbrella, etc.
Compare wisely: An independent insurance agent can help you bring multiple offers to the table to review, and you pick the one that works best for your budget
The Benefits of an Independent Insurance Agent
Insurance policies can be complex. And searching through company after company can be extremely time-consuming and overly frustrating. An independent agent's role is to simplify the process.
They work with multiple insurance companies on a daily basis so they know all the pros and cons to each and can help you navigate the playing field.
Plus, they'll break down all the fancy insurance jargon and fine print to make sure you're confident you've got the right coverage for your sports car's unique needs.
Save on Car Insurance
Our independent agents shop around to find you the best coverage.
Finding and Comparing Sports Car Insurance Quotes
An independent insurance agent will review your needs and help you evaluate which type of sports car insurance makes the most sense for you. Then they'll start shopping from some of the best companies out there to bring a number of different options to the table.
You'll review them together with your agent, walk through all the fine print, get all your questions answered, and pick which is right for you. It just doesn't get any easier than that.
TrustedChoice.com Article | Reviewed by Paul Martin
©2023, Consumer Agent Portal, LLC. All rights reserved.