Chevy Tahoe Insurance
(Everything you need to know - and more)

You are shopping for a new SUV and the Chevrolet Tahoe has appealed to you. It may have been the stout towing capacity; the available nine-person seating capacity; the quiet highway ride; the impressive interior quality; or a combination of all of these features that have made it popular.
The Tahoe received high marks in safety, is not much of a target for auto theft, and offers moderate pricing on repairs. These factors and more have made insuring the Tahoe cost an average of $1,000 a year.
An independent insurance agent can help you find the most affordable Tahoe insurance with the best coverage. Contact an agent today to start getting quotes.
How Much Does Chevy Tahoe Insurance Cost?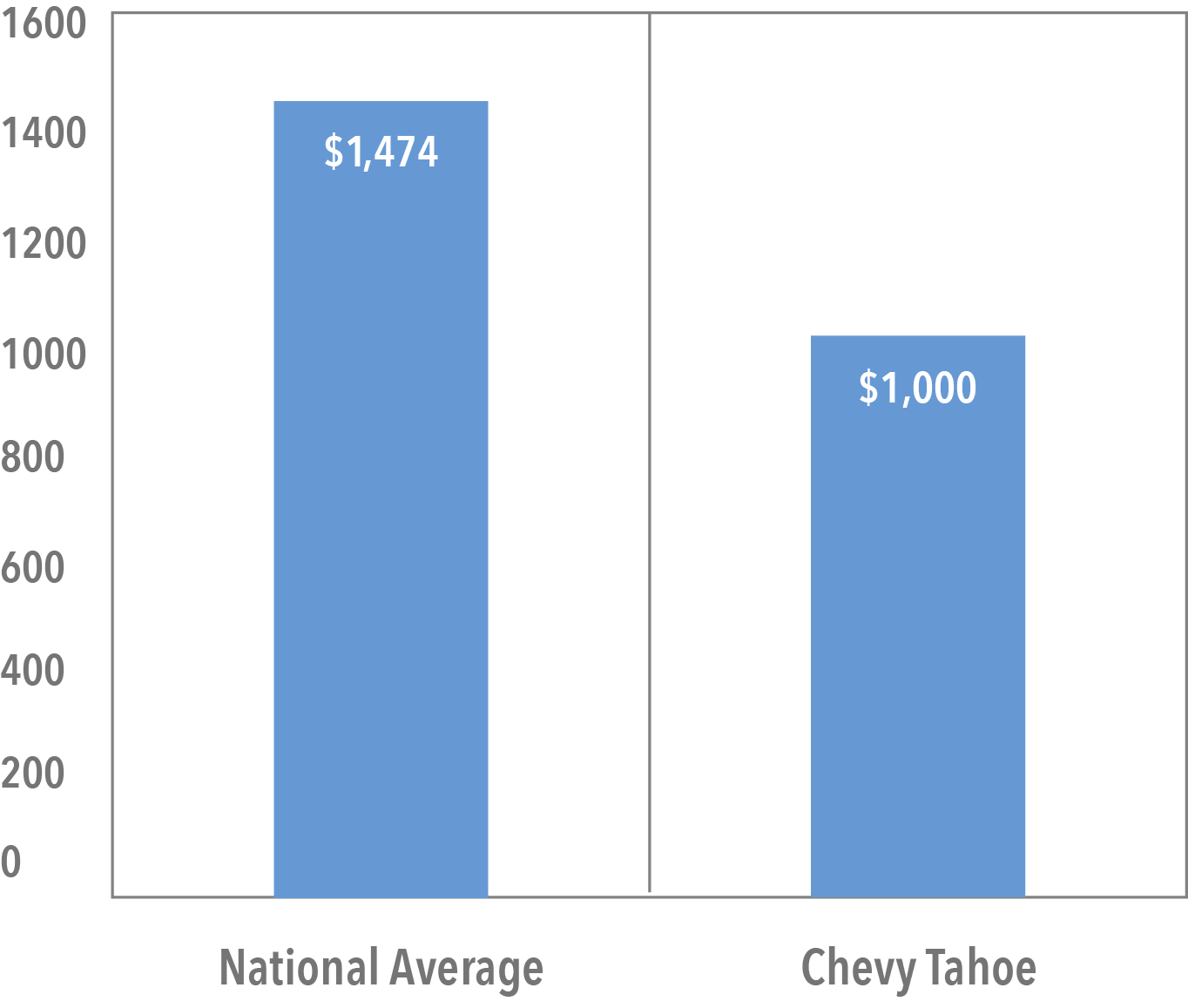 The average annual cost to insure a Chevrolet Tahoe is $1,000, which is a few hundred dollars less than the national average of $1,474. That may seem like a lot of money, especially if you have never been involved in a crash.
But as the 12.6% of uninsured drivers usually discover at some point, it is much more affordable than the costs of repairing another driver's vehicle or paying for their medical bills.
If your large Tahoe SUV is involved in a crash with another vehicle, it can do some serious damage. You want to be sure your insurance policy will help you repair not only your Tahoe, but also the other person's vehicle as well.
If you have passengers in any of the three rows of available seating, you want to be sure an insurance policy will help them pay for any injuries. Going without insurance means you can be held responsible for paying for any repairs or injuries to another party out of pocket.
There are many factors that can affect the price of a car insurance premium. Most people know their gender, age, driving history and location will impact the cost of a policy, but insurance companies will also consider the following:
MSRP: This stands for "Manufacturers Suggested Retail Price" and it significantly affects car insurance premium. The more you paid for your vehicle, the more you will pay to insure it.
Safety Rating: A vehicle with a high safety rating will cost less to insure than a vehicle with a poor safety rating, because the insurance company will be less likely to have to pay for medical bills after a crash if the occupants are uninjured.
Age of the Car: As vehicles age, they depreciate significantly in value. An older car is more likely to be totaled in an accident. This is because the cost of significant repairs needed for an older car can often be higher than the vehicle's entire worth.
Likelihood of Theft: Some cars are more attractive to thieves than others, and a car model that hits the top 10 most stolen list is likely to have higher rates than one that's not a likely target.
What Influences Insurance Costs for SUVs?
The price you may pay to insure a Chevrolet Tahoe can vary a lot from state to state. In general, SUVs cost 15% to 20% more to insure than sedans. This is partly because when large vehicles are involved in accidents with smaller cars on the road, they do significant and costly damage.
If you have an accident or two in your driving history, you will most likely pay more than the state average. Additionally, if you choose optional safety packages when you purchase your SUV, you could pay lower premiums than other Tahoe drivers in your state.
The safety rating plays an important role in car insurance premiums. If your Tahoe is more likely to keep you safe during an accident than other models, and that means insuring the vehicle may cost less.
Chevy Tahoe Auto Theft and Safety Ratings
Choosing a vehicle with high safety test marks can not only help save your life in the event of a crash, but it can also lead to savings on your car insurance premium. Insurance companies like safe vehicles because they keep occupants protected while leaving the cost of claims low.
Not all of the crash test data for the 2016 Chevrolet Tahoe is in yet, but ratings for previous models can be used to estimate the performance of the newest version.
The overall saftey evaluation given to the Tahoe by Edmonds and USA Today is "Good." The SUV does have a 22% chance of rollover, in which cases it does not fare well in the safety department.
The National Highway Traffic Safety Administration gives the 2016 Chevy Tahoe a 4 out of 5 star rating on safety. The SUV could have received a perfect score if it weren't for the rollover risk.
For added safety benefits, you could be sure your Tahoe is equipped with Chevy's post-collision safety system. This feature not only helps keep you safer, but it can also help you save money on your Tahoe insurance premiums.
Another factor that can affect your insurance rates is the risk of theft for your particular vehicle. According to the National Insurance Crime Bureau (NICB), no SUV model even makes the top 10 list of most stolen vehicles, so the Tahoe is less likely to be stolen than many other cars.
However, component theft is on the rise. This is when thieves steal things like airbags. The NICB says that airbag theft costs insurers and vehicle owners more than $50 million a year. To deter thieves, steering wheel covers used with a steel bar steering wheel lock are available.
Urban areas are more prone to auto theft than rural areas, so your location will affect your rates. According to the FBI, a vehicle is stolen every 43 seconds. You can protect yourself against this risk by:
Choosing off-street parking whenever available.
Never leaving valuables in sight.
Always keeping the doors locked and never storing a spare key inside.
Installing anti-theft devices such as kill switches, GPS tracking or other theft alert systems.
Following these tips can not only prevent your vehicle from being stolen, it can also help keep your car insurance rates lower. If your Chevrolet Tahoe is stolen, it's important to contact your insurance agent soon as possible.
Hopefully, you chose comprehensive coverage for your Tahoe, as a liability-only policy won't help in the event of theft. Your agent will be able to:
Protect you if your vehicle was used to cause damage or injury while it was stolen.
Get your claim moving along faster.
Provide you with a rental car if that is part of your policy.
Costs of Chevy Tahoe Repairs
If you have ever owned a vehicle before, you know the cost of repairs can be a deciding factor in which car, truck or SUV to purchase.
Those interested in the Chevrolet Tahoe should know that among the top 5 most common repairs, the Tahoe is fairly comparable to the national average. Most of the costs deviate $50, sometimes more and sometimes less.
A vehicle that is more costly to repair, like some imported autos, is more costly to insure. The costs to repair a Chevrolet Tahoe are right around average, so your insurance premiums may not be affected much due to this factor.
Save on Car Insurance
Our independent agents shop around to find you the best coverage.
Where to Find Car Insurance for Your Chevy Tahoe
If you have decided the Tahoe is the right vehicle for you, it is important to find the right insurance agent. Knowledgeable, independent agents with Trusted Choice are always available to answer any questions you may have about your car insurance options.
These experienced agents can locate a variety of quotes from a number of different insurance companies, enabling you to choose a policy with the best coverage at the most affordable rates. Contact a Trusted Choice agent to find out how you can get a Chevrolet Tahoe insurance policy today.