Honda Ridgeline Insurance
(And how you can easily get started today)

The Honda Ridgeline is back after a few years of being out of production. This great midsize light-duty pickup truck is excellent for anyone who needs the convenience of a pickup but doesn't require the big engine or towing capacity of a heavy-duty truck.
The Ridgeline scores well on all safety tests and is basically ignored by car thieves, which makes insuring it pretty affordable. While insurance data is not available for the 2017 Ridgeline, the annual premium on a used 2014 Ridgeline comes in at the bargain price of $870, which is well below the national average.
If you are considering a Ridgeline, you will need to find an insurance policy to protect your new pickup. An independent agent will do all the research for you and find the perfect policy to protect your brand-new Ridgeline.
How Much Does Honda Ridgeline Insurance Cost?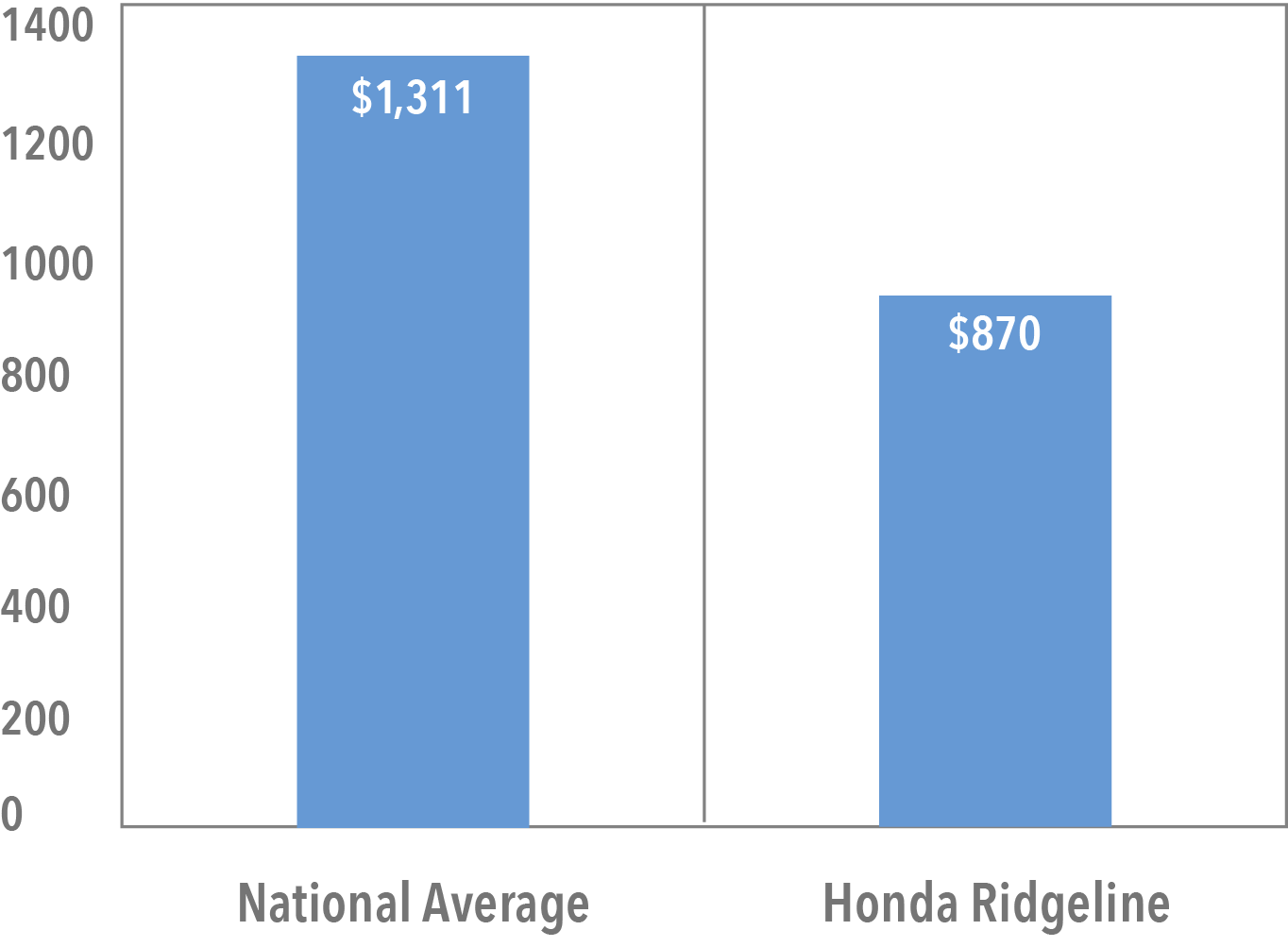 Honda stopped producing the Ridgeline in 2014 and has only recently brought it back to market, the average annual insurance premium is around $870, while the national average is $1,311.
Statistics show pickup trucks tend to be less expensive than cars when it comes to insurance rates. This is especially true for light-duty pickup trucks like the Honda Ridgeline.
While you may do your best to keep your driving and insurance records clean, there are other factors impacting your premium that you have no control over.
Uninsured drivers are one of the biggest factors in everyone's insurance cost. According to industry statistics, roughly 12.6% of drivers on the roads don't have insurance.
Unfortunately, this raises rates for everyone. While uninsured/underinsured coverage is not required in all states, it is always a good idea. This will cover your claim in the event you are in an accident with an uninsured or underinsured driver.
Underinsured drivers are another thing to think about when considering insurance and are more common than you would imagine. Required limits in most states are usually very low, leaving you on the hook for damages not covered by their low-limit policies. Underinsured coverage will step up and pay the difference.
Most insurance companies offer discounts and they can have a major impact on your premium. You should make sure you're getting all discounts that you are entitled to receive.
A Trusted Choice agent will gladly help you review your policy and find you all the available discounts. In addition, our agents will shop around for coverage to make sure you get the best policy at the best price.
A wide variety of discounts are available for Honda Ridgeline drivers; here are just a few of the most common:
Bundling: Almost every insurance company out there will offer a discount to customers who purchase both car and home insurance from them. This discount can be significant, in some cases up to 25%.
Active Safety Systems: Many new vehicles are equipped with active safety systems such as autonomous braking and lane departure warning, which will result in a discount.
Defensive Driving: Drivers who take and pass a defensive driving course will usually be offered a discount. Check with your insurer for approved courses.
While discounts can certainly help you save on your insurance rates, there are other factors that will also increase or decrease your premium.
Credit Rating: If you have a poor credit score you will absolutely pay more for car insurance. Improve your credit score and then ask your insurer to recalculate your premium
Driving Record: Obviously your driving record will impact your rates. Avoid speeding tickets and accidents for the best rates.
Claim Record: This is another major factor. A large number of claims on your policy will dramatically increase your rates. Always pay small damages out of pocket and save your insurance for major accidents.
What Influences Insurance Costs for Pickup Trucks
When it comes to insurance rates, the Honda Ridgeline falls somewhere in the middle. Pickup trucks, especially mid-size light-duty trucks, are generally less expensive to insure than similarly priced cars.
Here are a couple of factors that insurance companies will consider when setting a premium for a pickup truck:
Engine Size: The Ridgeline comes standard with a V-6 engine and is considered a light-duty truck, which makes insuring it very affordable. Heavy-duty trucks, which have much higher starting prices and bigger engines, are often more expensive to insure because of their high value and high repair cost.
Safety: The Ridgeline is considered a safe vehicle, which helps keep insurance costs under control. Insurance companies love vehicles that are loaded with safety features because they protect the occupants of the vehicle during a crash, which lowers claim costs.
Honda Ridgeline Auto Theft and Safety Ratings
The National Highway Traffic Safety Administration does not have theft statistics on the latest Honda Ridgeline. However, it doesn't make any of the top stolen vehicle lists, so there is a good chance car thieves are not all that interested in the Ridgeline.
Vehicles that are common targets for thieves will usually carry a higher insurance rate, because every time a car is stolen, an insurance company will have to pay out a claim. Insurance companies keep theft statistics on the various makes and models and use those statistics to help set premiums.
If your Ridgeline is stolen, you will need comprehensive coverage to compensate for the cost of replacing your vehicle. Comprehensive insurance not only protects your vehicle from theft and vandalism, but will also pay for damage that is caused by falling objects, storms and even animals.
If your current policy does not include comprehensive coverage, contact a Trusted Choice agent, who will happily answer any questions you have about comprehensive insurance and help you find the best comprehensive policy for your particular vehicle.
Theft rates definitely affect your premium, but they are not the only statistic that insurers consider, safety ratings will also have a major impact on your premium.
The Ridgeline scores the highest rating of "Good" in all tested categories according to the Insurance Institute for Highway Safety (IIHS):
Moderate overlap front: Good
Side impact: Good
Insurers care about safety ratings for a few different reasons:
Minimize Damage and Claims: Vehicles like the Ridgeline that have excellent safety ratings help protect occupants and minimize damage during an accident, which lowers claim costs. In some cases, new technologies such as autonomous braking can even prevent a collision from happening in the first place.
Safer Drivers: Statistics show that drivers who take the time to research vehicle safety ratings and buy highly rated vehicles tend to drive more safely and file fewer claims.
Repair Costs for Honda Ridgeline
When it comes to repair costs, the Ridgeline is significantly cheaper than the national average. It costs $585 to repair or replace the bumper on the Ridgeline, compared to the national average of $675.
Bumpers can be surprisingly expensive to repair, because they are often filled with sensors for the airbags and other safety systems. Repair costs can quickly add up after an accident, making collision insurance a great investment.
Rear-end collisions are one of the most common types of accidents, and repairs can include the bumper, tail lights, trunk, and fenders, all of which can be somewhat pricey. Your insurance premiums can be directly affected by the repair cost of your particular vehicle.
When it comes to the cost of repairing or replacing your vehicle, you will need to be carrying collision insurance. This covers the cost of repairs if your vehicle is damaged due to an accident.
There is a deductible that is associated with collision insurance, which you will have to pay before your insurance company covers the rest of the repair bill.
As with all insurance, it is best to save your collision coverage for major accidents and pay small damages out of pocket.
Save on Car Insurance
Our independent agents shop around to find you the best coverage.
Where to Find Car Insurance for Honda Ridgeline
If you are interested in the new Ridgeline or have an older one already in the garage, an independent agent can help you find the perfect policy to protect your ride.
Our agents are happy to do all the shopping for you, gathering quotes and making sure all available discounts are applied to your policy. They will work hard to make sure you have the best coverage at a very affordable price.
Contact a Trusted Choice agent today to start your Honda Ridgeline quote.