Escalade Insurance
(And how you can easily get started today)

The Cadillac Escalade is the king of the hill when it comes to luxury SUVs. While it had a less than exciting start, it was quickly redesigned and became a hit with consumers.
The current Escalade is still a big seller in the luxury market and comes loaded with a wide variety of safety features, making it a great family car. But insuring the Escalade at a lower rate may be a challenge.
Make no mistake, the Escalade is a seriously luxurious vehicle, and that comes at a cost that goes beyond the sticker price. The average annual premium for the Escalade is $1,502 while the national average is $1,474.
An independent agent can help you find a Cadillac Escalade insurance policy at an affordable price point. They will also advise you on the various coverages you need while also making sure you get all available discounts on your policy.
How Much Does Cadillac Escalade Insurance Cost?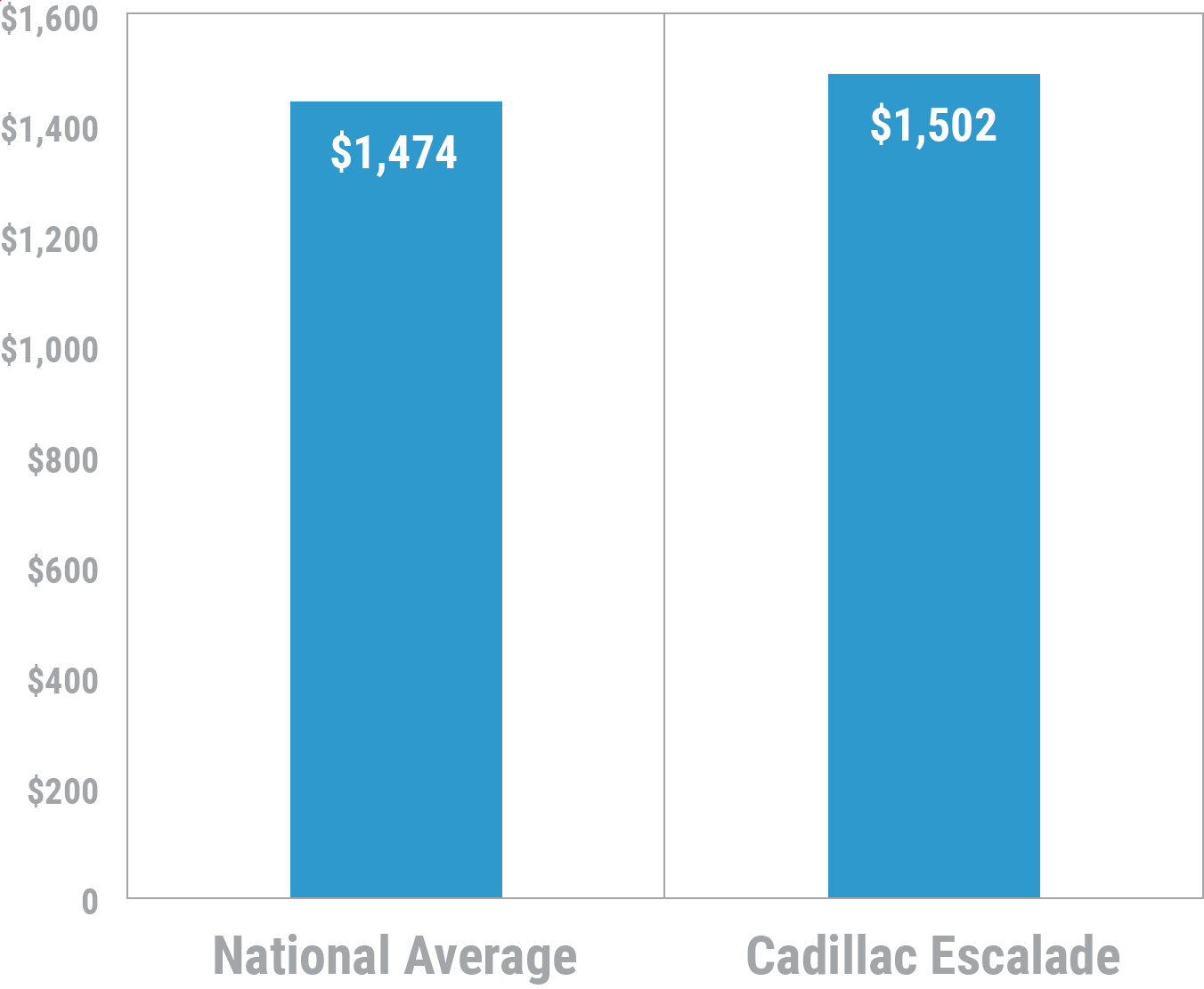 Due to its luxury status, the Cadillac Escalade costs more than the average vehicle to insure. The average annual premium for the Escalade is $1,502, which is slightly above the national average of $1,474.
Insurance costs will vary by the model you drive. As an example, Cadillac Escalade EXT insurance may be slightly more expensive than insurance for a base model.
The EXT was a sport utility truck version of the Escalade. It had four full-size doors and a small pickup truck bed. This model was discontinued in 2013.
The same can be said for Cadillac Escalade Hybrid insurance. In most cases, hybrids cost more to insure due to the high replacement and repair costs of their battery packs.
Always get an insurance quote for any model type you are considering so there are no surprises when it comes time to getting your Escalade insurance policy.
Another factor that may push up the cost of Cadillac Escalade insurance is the number of uninsured drivers out on the road. Insurance companies take many factors into account when setting a premium, and the uninsured driver rate is one of them.
According to current statistics, roughly 12.6% of drivers nationwide are driving without insurance coverage.
In some states, the rate of uninsured drivers is much higher. In Florida 26% are uninsured, Mississippi is a close second with 24%.
Because insurance companies must cover the cost of claims when uninsured drivers are involved in an accident or incident, they pass those costs on to insured drivers via higher premiums.
It's possible to lower the cost of insuring your Escalade through discounts. Insurance companies offer a number of different discounts and they can have a major impact on your insurance costs. Here are a few of the most common discounts offered by insurers:
Safe Driving: The requirements for this discount vary by insurance company, but in general, if you have not had a ticket or claim in the last three years, you may qualify for a discount.
Bundling: Purchasing all of your insurance (homeowners, auto, life, renters) from the same company is a great way to get a significant discount. The discount amount will vary, but expect up to 20%.
Safe Vehicle: Insurance companies love safe vehicles, since they are usually involved in fewer accidents. Safety features such as airbags, anti-lock brakes, motorized seatbelts, electronic stability control and tire pressure monitors should all result in a discount. Advanced safety features such as blind spot monitoring, autonomous braking and collision avoidance could result in an even bigger discount.
Defensive Driving: Taking and passing a defensive driving course will usually qualify you for a discount. Contact your insurance company for a list of qualifying courses.
A Trusted Choice agent will help ensure you get all of the discounts you are qualified to receive. They will shop a wide variety of insurance companies to find the policy that is the best fit for your budget.
Save on Car Insurance
Our independent agents shop around to find you the best coverage.
Cadillac Escalade Auto Theft and Safety Ratings
A less-than-stellar safety rating also impacts the cost to insure the Escalade. It received an overall four-star rating from the National Highway Traffic Safety Administration, but like many SUVs only managed three stars in the rollover category.
Luckily, the Escalade is loaded with standard safety features, which could benefit insurance buyers. Numerous airbags, automatic park assist, surround vision, rear vision camera, and front and rear park assist all come standard on the base model and will positively impact insurance premiums.
At higher trim levels, advanced safety features come as standard equipment and should help drive your insurance costs even lower. Insurance companies love vehicles that help drivers prevent or minimize damage during a collision.
Forward collision alert, lane keep assist with lane departure warning, safety alert seat, side-blind zone alert, rear cross-traffic alert, and lane change alert are all available on the Escalade and should result in a discount on your premium.
These features are optional equipment on the base model Escalade, but come as standard equipment on the Escalade Luxury and higher trims.
Theft rates are also a major consideration for insurance companies when setting rates. While the Escalade is improving on that mark, it's history as a favorite among car thieves still affects rates.
Theft rates of the Escalade have declined in recent years and it is not currently on the top ten list of stolen vehicles, but it was once very popular with car thieves. Between 2003 and 2012, at least one trim level of the Escalade made the top ten list every year.
Following a few best practices and taking some extra precautions can help prevent your vehicle from being stolen and may even result in a discount. Here are a few tips for securing your Escalade:
Keep it in a garage: Always garaging your car will protect it from car boosts as well as damaging weather. The majority of insurance companies offer a discount if you keep your vehicle in a garage.
Lock it up: Never leave your car unlocked. Car thieves look for the easiest target and if your vehicle is left unlocked, you could be their next victim.
Park smart: When out on the streets, park smart. Car thieves don't like a spotlight, so park your vehicle under a street light and in a highly visible location.
Add an alarm: While the Escalade comes standard with an anti-theft system, upping the ante with a Lo-Jack or other tracking system can help keep your ride safe.
Hide your valuables: Always hide or remove any valuables in your vehicle. These items are just an additional enticement to thieves.
Comprehensive insurance is a requirement if you want to be covered for theft. This coverage protects your vehicle against vandalism, theft, flood, fire and damage caused by animals.
Where to Find Car Insurance for the Cadillac Escalade
The Escalade is a luxury vehicle that needs to be well-protected out on the streets. Having the proper insurance in place will make sure that your significant investment in this vehicle will be covered.
Our independent agents will sit down with you to explain the various coverages available and determine what you are looking for in a car insurance policy for your Escalade. Contact a local agent in your area today.
©2023, Consumer Agent Portal, LLC. All rights reserved.
Insurance Information Institute
Highway Data Loss Institute
NTSA