Chevy Camaro Insurance
Are You Overpaying for Chevy Camaro Insurance?
(If so, here's how you can find the right coverage)
The Camaro was first produced in 1966 to compete with the highly popular Ford Mustang. With its sleek design, sporty performance, and nimble handling, this car has been, and continues to be, one of the top-selling Chevy models.
In 2014, nearly 100,000 new Camaros were eagerly snapped up by consumers looking for a safe, efficient, and affordable performance sports car. And with annual premiums costing an average of $975, the Camaro is also surprisingly affordable to insure.
Whether you already have a car insurance policy or you are a first-time buyer looking for affordable coverage, a local Trusted Choice® agent can help you find the policy that best meets your coverage and budgetary needs.
These independent agents can work with several different insurance providers to obtain rates for policies that are customized for you. That way, you can choose the policy that gives you the best value for your hard-earned money. Find an agent near you to learn more about your Chevy Camaro insurance options.
How Much Does Chevy Camaro Insurance Cost?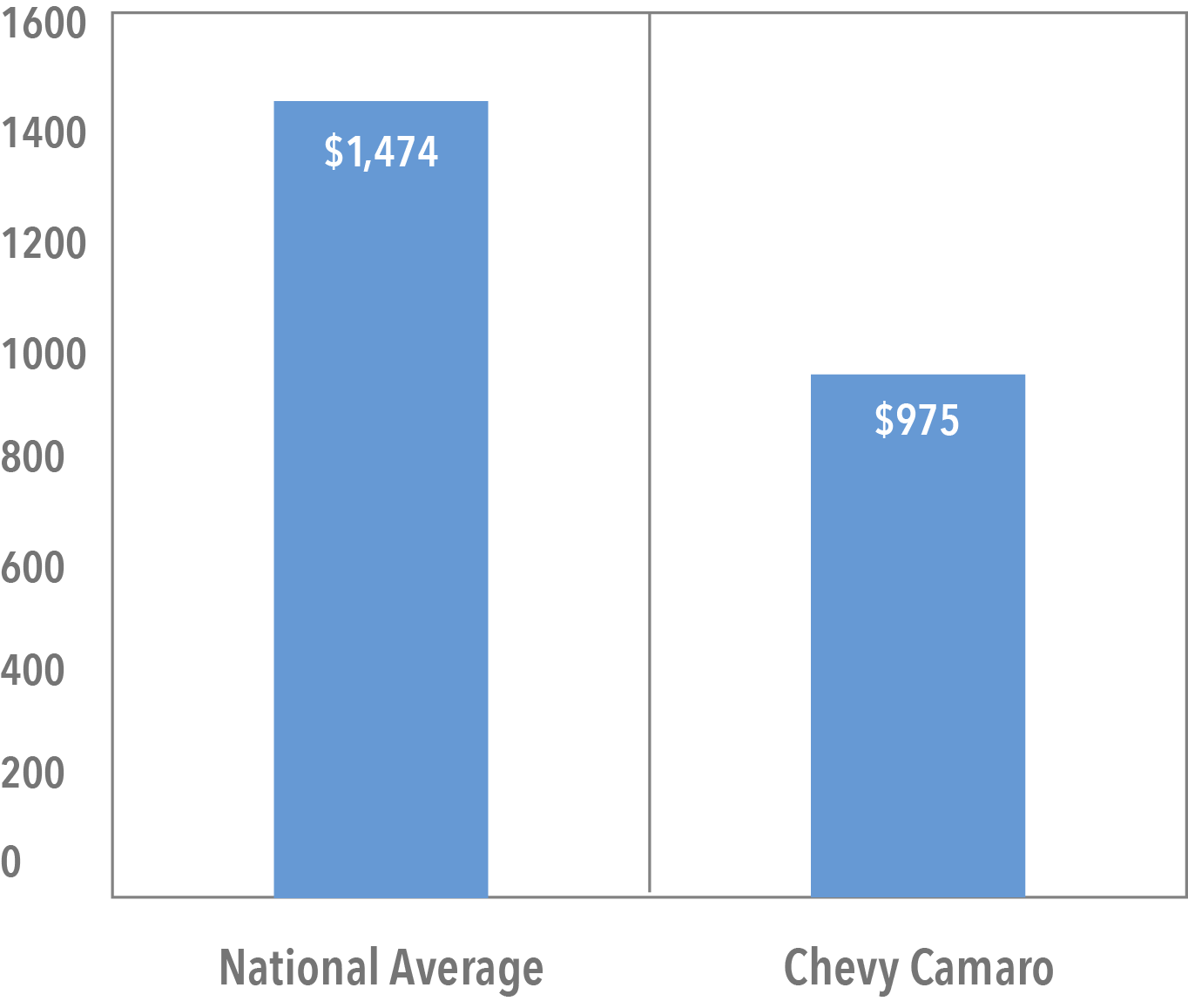 On average, owners of the Chevy Camaro pay an around $975 per year to cover their vehicles. Of course, your actual rates may be much higher or lower depending on a number of factors including:
Where you live and park your car
Your age, gender, marital status, and driving record
Which, if any, optional safety features are included in your car
The approximate number of miles you drive each year
Whether or not you qualify for policy discounts
Unsurprisingly, a 23-year-old man with several speeding tickets and an accident in his driving history is going to pay more for coverage than a 50-year-old woman with no moving violations—but which of the two is more likely to have their eye on a Camaro?
The state you live in will dictate how much coverage you must carry at a minimum to be in compliance with the law. You will also be able to add a variety of coverage options such as collision, other-than-collision, and personal injury protection, if they are not already required by your state. Adding coverage options, naturally, increases your overall premium costs.
In some states, uninsured motorist coverage is a requirement, and this makes minimum coverage policies more expensive in some places than in others.
Even if it is not required by the state in which you live, this optional coverage is something you may want to consider anyway, since a whopping 12.6% percent of drivers in this country are operating uninsured vehicles.
If one of these drivers is responsible for a collision with your vehicle and you do not have uninsured motorist coverage, it can be extremely difficult to collect compensation for your losses from the offending driver.
When you are shopping for coverage on a Camaro, you can save money by comparison shopping with the assistance of a Trusted Choice agent. In addition to helping you review a variety of policies and rates, these agents can help ensure that you receive any policy discounts you are entitled to.
These may include discounts for a safe driving record, completing a safe driving course, and bundling your car insurance with other policies like life or homeowners insurance.
What Influences Insurance Costs for Muscle Cars?
The Chevy Camaro is in a class of vehicles referred to as "pony cars." These are muscle cars that are on the smaller side and similar in style and performance to the Ford Mustang, the original pony car. Basically, all pony cars are muscle cars, but not all muscle cars are pony cars.
Because they are smaller than the average muscle car, Camaros typically do not cause as much property damage or significant injuries when they are involved in a collision. This can help keep your liability coverage costs on the low side.
Muscle cars, in general, are often more expensive to insure. This is because those who buy these vehicles tend to do so for their added power and speed, and thus collisions may be a bit more likely. For that reason, it may be a good idea to include collision and personal injury protection as part of your Chevrolet Camaro insurance.
Trusted Choice agents can help you review how much adding different insurance options will increase your total premium costs. That way, you can be certain that you are making an informed decision about the kinds of coverage you are purchasing, and that you are getting your policy at a competitive rate.
Chevy Camaro Auto Theft and Safety Ratings
You may think that your Chevy Camaro is a fun and attractive vehicle. Unfortunately, so do car thieves. In fact, according to Forbes, the Camaro is the single most stolen vehicle in the "pony car" or "muscle car" classification, making up about 40% of all performance cars stolen in recent years.
What you may not realize is that if your car is stolen, you are only entitled to receive compensation from your insurance company if your policy includes comprehensive (or other than collision) insurance.
The increased risk of this car being stolen can cause your rates for optional comprehensive coverage to be higher than it would be for many other cars, but the coverage may prove well worth the cost.
The safety of the Camaro also plays a role in your insurance rates. Fortunately, the Camaro is a surprisingly safe car. The Insurance Institute for Highway Safety rated the most recent version of this vehicle as follows for crash safety (ratings can be Good, Acceptable, Marginal, or Poor):
Moderate overlap front: Good
Small overlap front: Good
Side impact: Good
Roof strength: Acceptable
Rear crash protection: Good
In fact, the Chevy Camaro is considered the safest vehicle in the muscle car category. This is great news for those who own one of these great cars. Not only are you and your passengers less likely to be seriously injured in a collision, but you will also benefit by paying lower insurance rates.
Costs of Chevy Camaro Repairs
It makes sense that the costs to repair the types of damage that are common in collisions can play an influential role in your quoted rates for coverage.
Unfortunately for owners of the Chevy Camaro, this car comes with higher-than-average repair costs, and this is something insurance providers will take into consideration when they calculate your premiums.
When your vehicle sustains damage to the front of the car, such as to the grille or the front bumper, chances are that you will be deemed the responsible driver and your insurance policy will be the one to cover your damages.
Camaro repairs for these types of damage exceed national averages, particularly when it comes to front bumper repair. This will result in somewhat higher rates for collision and comprehensive coverage if you opt to include them in your policy.
How to Find the Best Chevrolet Camaro Insurance
When you are shopping for the best insurance policy to cover your Chevy Camaro, you can benefit from working with a Trusted Choice agent.
These independent agents can make it easy to compare rates for policies that have been customized to meet your specific needs. That way, you can be sure that you are not overpaying for your coverage. Find an agent near you to learn more and get started.