Chevy Spark Insurance
The Chevrolet Spark: an Affordable Car with Affordable Insurance
(Here's what you need to know about Chevy Spark insurance)
The main claim to fame for the Chevrolet Spark is its very affordable price. Starting at around $14,000, the Spark is a great choice for anyone who needs cheap transportation paired with a snappy look and plenty of safety features.
The Spark is one of only four cars in the U.S. that start under $15,000. It is surprisingly well-equipped for that price, with 10 airbags coming standard and available lane-departure alert and forward-collision warning.
Thanks to its small engine and great safety rating, the Spark is fairly cheap to insure, with an average annual insurance rate of $829. It also has low operating and repair costs, which makes a practical choice for drivers looking for an affordable ride.
If you currently own a Spark or are in the market for one, an independent insurance agent will make sure that your Spark is properly insured and you are getting the best price for your coverage.
How Much Does Chevrolet Spark Insurance Cost?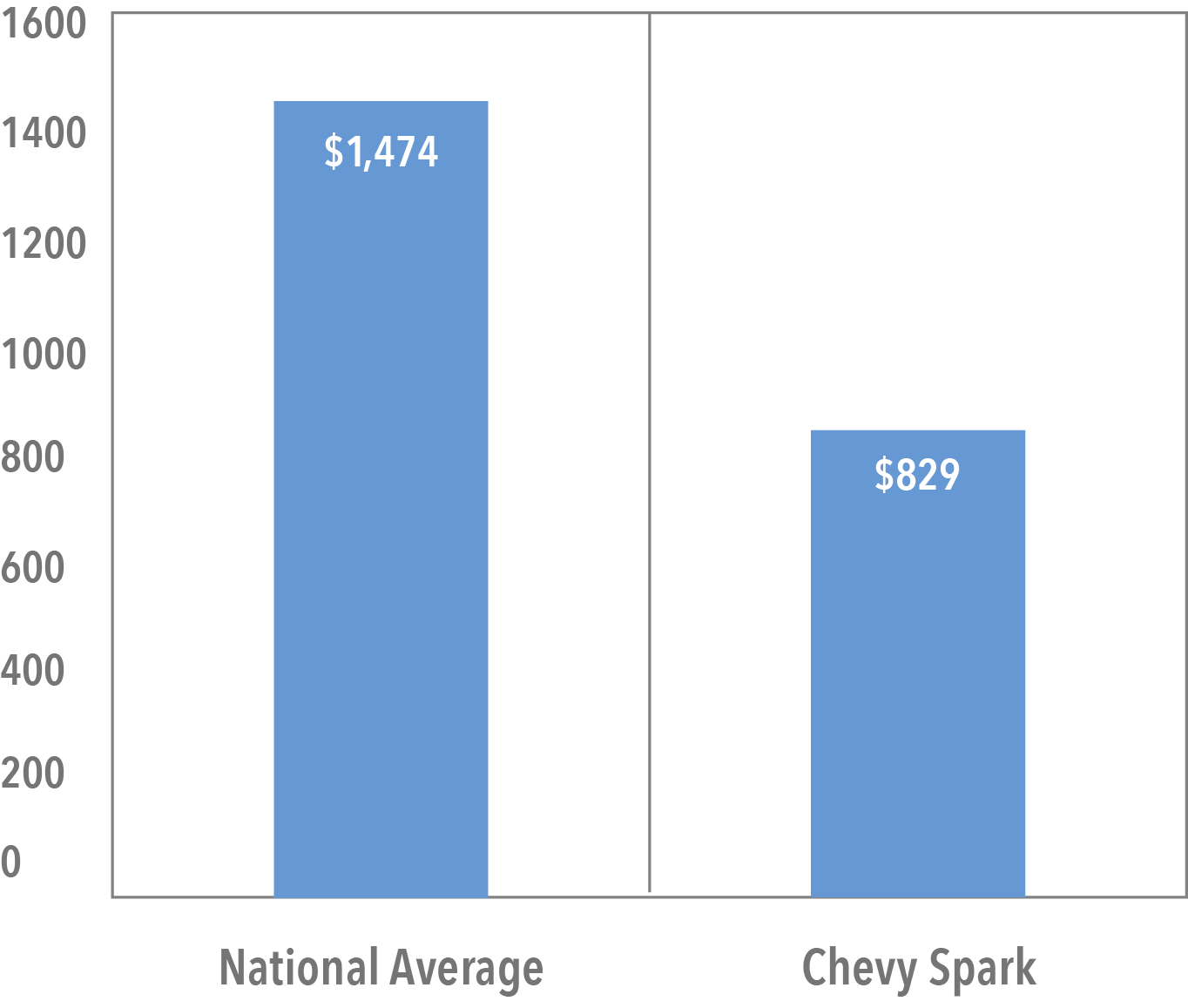 You can expect to pay about $829 a year to insure a Chevy Spark, which is well below the national average of $1,474. The Spark is small, inexpensive and doesn't have a big engine under the hood, which are all factors that help lower the cost of insuring this affordable little car.
One factor that you can't control when it comes to car insurance cost is what other drivers are doing. Unfortunately, a mind-boggling 12.6% of drivers out on the road don't have car insurance, which pushes insurance rates up for everyone, including Chevy Spark owners.
Insurance companies end up covering the cost of claims for uninsured drivers, and they pass those additional costs on to all consumers through higher premiums.
Even though the Spark is cheaper to insure than most other vehicles, there are still ways to drive your premium even lower. Discounts are available from all car insurance companies, so make sure you are getting all of the discounts that you are entitled to. Here are just a few of the more common discounts.
Bundling: If you buy car insurance and home insurance from the same insurer, they should be willing to offer a discount on your premium.
Paperless Policy: Insurance companies love anything that lowers their costs, and if you elect to get your policy documents and bills via email instead of snail mail, they will usually offer a small discount.
Good Student: If you have a teenager or college student on your policy, you may be able to save if they are a good student. Insurers usually require a B average or better, and you will have to submit a copy of their report card to verify.
Here are a couple of other factors that will affect your car insurance premium:
Credit Rating: Insurers rely heavily on statistics, and statistics show that drivers with low credit scores tend to file more claims than drivers with higher credit scores. If your credit score is low, do what you can to raise it. Pay your bills on time and monitor your credit score. Once it goes up, ask your insurer to quote your policy again.
Driving Record: Obviously your driving record has a big impact on your premium, so keeping it clean is of the utmost importance. Avoid accidents and speeding tickets to get the best rate.
Claim Record: A lot of claims, even small ones, on your insurance record will drastically impact your insurance rates. Experts advise saving your insurance for major claims. Pay for small damages out of pocket.
What Influences Insurance Cost for Subcompact?
The Chevy Spark is a subcompact, and as a general rule, small cars can be a bit more expensive to insure for a couple of reasons:
Affordability: Affordability can be a double-edged sword. While an affordable car is always a plus, it also means that younger drivers often buying them because of the low price. Statistically, younger drivers get in more accidents than older drivers, so any vehicle that is popular with younger drivers will be a bit pricier to insure.
More Serious Accidents: A study by the Insurance Institute for Highway Safety found that small, entry-level vehicles have the highest rates of driver deaths per 1 million registered vehicles. The reasoning behind this is that there is less mass to absorb a collision in smaller vehicles, which leads to more serious (and expensive) injuries.
Chevrolet Spark Auto Theft and Safety Ratings
The Chevy Spark is almost completely ignored by car thieves. According to data from the National Highway Traffic Safety Administration, a mere 65 Sparks were boosted in 2013.
Theft rates will absolutely have an impact on your car insurance rates, because every time a car is stolen, the insurance company has to pay out a claim. Vehicles with high theft rates (the Honda Accord tops the list almost every year) are more expensive when it comes to insurance.
On the offhand chance that your Spark is stolen, you will need comprehensive coverage if you hope to have your vehicle replaced. Comprehensive covers theft as well as damage caused by storms, vandalism, falling objects and damage caused by an animal.
A Trusted Choice agent can explain the benefits of comprehensive coverage as well as provide a quote for adding this important coverage to your policy.
Safety ratings also play a major factor when it comes to insurance rates. While subcompacts often lag behind when it comes to safety rankings, the Chevy Spark is an exception.
The Spark has a high safety rating, according to the Insurance Institute for Highway Safety (IIHS). While not a Top Safety Pick, it does receive their highest rating of "Good" in most categories tested:
Moderate overlap front: Good
Front impact: Good
Side impact: Good
Roof strength: Good
Head restraints and seats: Good
Small overlap front: Acceptable
The only test that it received an "Acceptable" rating instead of "Good" was the small overlap test. This test replicates when the front corner of a car collides with another vehicle or object.
According to the IIHS, this particular test can be a challenge for some seatbelt and airbag systems because the occupants of the car move forward and toward the side of the vehicle.
Costs of Chevy Spark Repairs
Repair costs come into play when insurers are setting premiums. Data shows that the repair costs for the Chevy Spark are slightly less, but not dramatically, than national averages. As an example, the cost to repair or replace the front bumper costs $672 on the Spark; the national average is $675.
Bumper repairs can be sort of pricey due to the fact that they are stuffed with sensors in modern cars so repairing or replacing the bumper can be more expensive then you would imagine.
It's important to remember that collision is the coverage that will pay to repair your vehicle in the event of an accident, and collision insurance has a deductible that you must cover before insurance will kick in to cover the repair bill.
Again, insurance is best saved for large claims. Pay for small repairs out of pocket.
Where to Find Car Insurance for Chevrolet Spark
If you are in the market for a Chevy Spark or already have one in the garage, an independent agent can help you find a great policy at the perfect price.
A Trusted Choice agent will do all of the work for you, shopping your options, gathering quotes, and advising you on what coverages and coverage levels are best for your particular situation. Our agents will also make sure you are getting every discount you are qualified to receive.
Contact an agent today to start your Chevy Spark insurance quote.