Chevy Malibu Insurance
Are Chevy Malibu Insurance Rates Expensive?
(Here's how you can find the right coverage)
The Chevy Malibu is a roomy and stylish midsize sedan that can suit the needs and budget of many drivers.
The 2016 Malibu was an Insurance Institute for Highway Safety (IIHS) Top Safety Pick+, and the 2017 model continues to offer a wealth of safety features and excellent safety ratings. Midsize sedans like the Malibu are popular with families and older drivers, and insurance rates of around $960 a year reflect that.
Malibu insurance is lower than the national average and it also offers reasonable repair costs, making the Malibu just the kind of vehicle to purchase if you want to minimize the cost of owning your vehicle.
If you are looking to insure a Chevy Malibu, talk to an independent agent. Independent agents can obtain quotes from multiple carriers, so you can shop around and make sure you are getting the best policy for your needs and budget.
How Much Does Chevy Malibu Insurance Cost?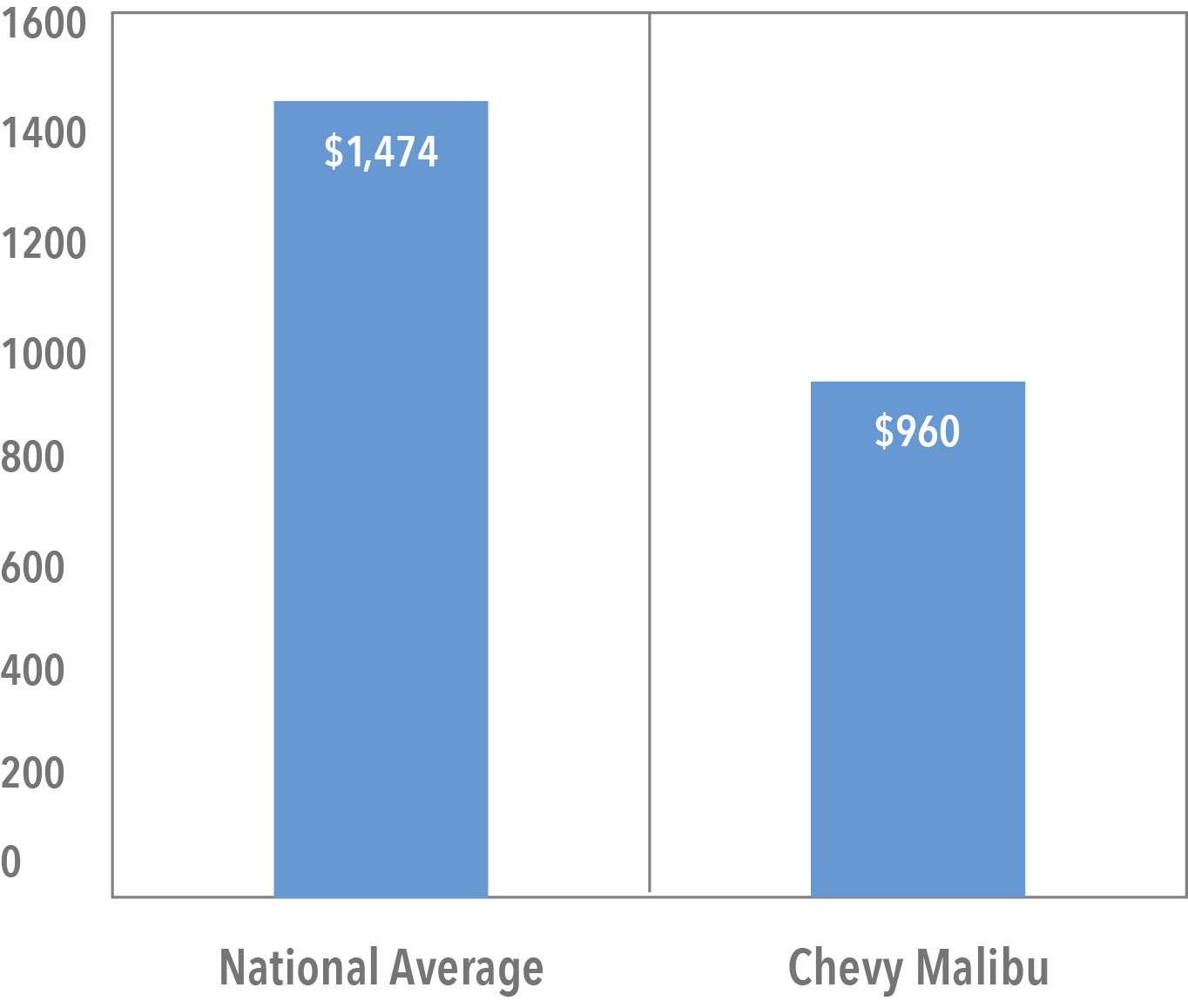 Chevy Malibu insurance averages about $960 per year, lower than the national average of $1,474. Remember that where you live and a variety of other factors influence your auto insurance rates, so not every Malibu owner will have low insurance rates.
But knowing how a car ranks compared to the national average is a great place to start when you are evaluating whether to purchase it.
In general, insurance companies assess a vehicle's record of claims and the costs associated with repairs and passenger injuries. Larger and safer vehicles tend to cost less to insure, as do sedans, which tend to be driven by older, more cautious individuals and those with families.
In addition to where you live and the vehicle make and model, your Chevy Malibu insurance rates will also be determined by:
Your age and gender
Your driving record
Your marital status
Your credit history
How much you drive
The types of coverage and deductibles that you choose also impact your insurance rates. If you purchase your state's mandated minimum liability coverage, you will have lower insurance rates for your Malibu than someone who chooses higher coverage limits.
If you choose higher deductibles (the amount you must pay out of pocket before your insurance coverage kicks in), you can lower your rates.
To keep your Malibu insurance rates low, you can also talk to your independent insurance agent about some popular insurance discounts that you may qualify for, such as:
Multi-policy discount for those with multiple policy types (usually auto and home) with one insurance company
Multi-vehicle discount for those who insure more than one vehicle with an insurance company
Safe driver discount if you have a clean driving record
Good student discount for students who earn good grades
What Influences Insurance Costs for Sedans?
A Chevy Malibu is a midsize car that is typically considered to be a "sensible family sedan" with affordable insurance rates. It is true that midsize sedans often cost less to insure than other types of cars like coupes or luxury vehicles.
But insurance companies also look at other factors when determining insurance costs for a particular vehicle, including:
Initial purchase price of the vehicle
Repair costs
Model history of accidents
Safety ratings
Speed and power
Theft ratings
Because midsize sedans typically offer safety, reasonable repair costs, and lower theft rates, owners usually enjoy affordable insurance rates.
Chevy Malibu Auto Theft and Safety Ratings
Vehicle safety ratings are based on the frequency of accidents for a particular car model and how likely it is for passengers to be injured.
Insurance companies treat safer vehicles more favorably because they are less likely to have to pay costly claims for passenger injuries and repairs. Cars with lower safety ratings are generally more costly to insure.
The Insurance Institute for Highway Safety (IIHS) rated the 2016 Chevy Malibu as a Top Safety Pick+. To earn this rating, a vehicle must earn an advanced or superior rating for front crash prevention and good ratings for the other tests.
The Malibu achieved the following IIHS safety ratings:
Moderate overlap front test: Good
Small overlap front test: Good
Side impact test: Good
Roof strength test: Good
Head restraints and seats: Good
Front crash prevention: Superior
Having certain safety features can earn you a discount on your insurance rates. Insurance companies often offer discounts for vehicles with anti-lock brakes, air bags, and automatic seat belts. The 2017 Malibu comes equipped with a variety of safety features, including:
Dual front and rear side-mounted airbags
Front and rear head airbags
Post-collision safety system
Stability and traction control
4-wheel anti-lock brakes
Emergency braking assist
Blind spot monitor
Theft also plays an important role in how much you will pay for Malibu insurance. According to the FBI's Uniform Crime Report, more than $4.5 billion was lost nationwide to motor vehicle thefts in 2014. These losses are often in the form of auto insurance claims, so they are of great concern to auto insurance companies.
For model year 2015, 629 Chevy Malibu sedans were stolen nationwide. This is a relatively high theft rate (ranked number 8 for all 2015 models), which will have an impact on the cost of the comprehensive part of your auto insurance policy.
Comprehensive coverage pays for losses due to theft, fire, vandalism, weather, birds or animals, glass breakage, and so on. To avoid theft and having to file an auto insurance claim, you must take steps to protect your car from theft. What can you do?
Install an alarm system
Always park in safe, well-lit areas
Never leave your car running while unattended
Always lock your vehicle
Costs to Repair the Chevy Malibu
Repair costs also factor into your Malibu insurance rates. More expensive cars cost more to insure because of higher repair costs. Foreign cars may also cost more to repair (and insure) because there may be greater difficulty obtaining parts if you are in a crash.
We compared costs for some of the most common post-crash body repairs, including repairing or replacing the front bumper, grille, and windshield. Insurance companies are concerned with these prices because they reflect what they might have to pay out if you have to file a claim after an accident.
Repair costs for the Chevy Malibu are a mixed bag compared to the national average, with some repairs costing more and some costing less. In general, repair costs for a Chevy Malibu are average.
Where to Find Car Insurance for Chevy Malibu
The Chevy Malibu is a safe and dependable midsize sedan that is suitable for families or just about any type of driver. Purchasing a midsize sedan is typically a great way to keep your insurance rates low, and the Malibu's numerous safety features may help you qualify for a variety of discounts.
An independent agent can help you find high-quality Chevy Malibu insurance that fits your needs and budget. These agents are in your area and can get quotes from multiple highly rated insurance companies.
They will help you compare rates and coverage so you can be sure you are getting what you need. Contact an agent in your area to find the right policy for you.