Chevy Volt Insurance
Is the Volt More Expensive to Insure Because It's a Hybrid?
(Here's what you need to know about Chevy Volt insurance)
The 2017 Chevy Volt is a plug-in gasoline/electric hybrid that can travel 53 miles on one charge. Not only is the Volt environmentally friendly, but it also earned a Top Safety Pick+ rating from the Insurance Institute for Highway Safety (IIHS).
While Volt owners may benefit from lower fuel costs, they will not save money on insurance costs. Chevy Volt insurance is higher than the national average in some areas of the country, and lower in others. But in general, hybrid vehicles have higher insurance costs than traditional fuel vehicles, for a variety of reasons.
If you are looking for quotes on car insurance that meet your needs and budget, talk to an independent agent to find high-quality Chevrolet Volt insurance at an affordable rate.
How Much Does Chevy Volt Insurance Cost?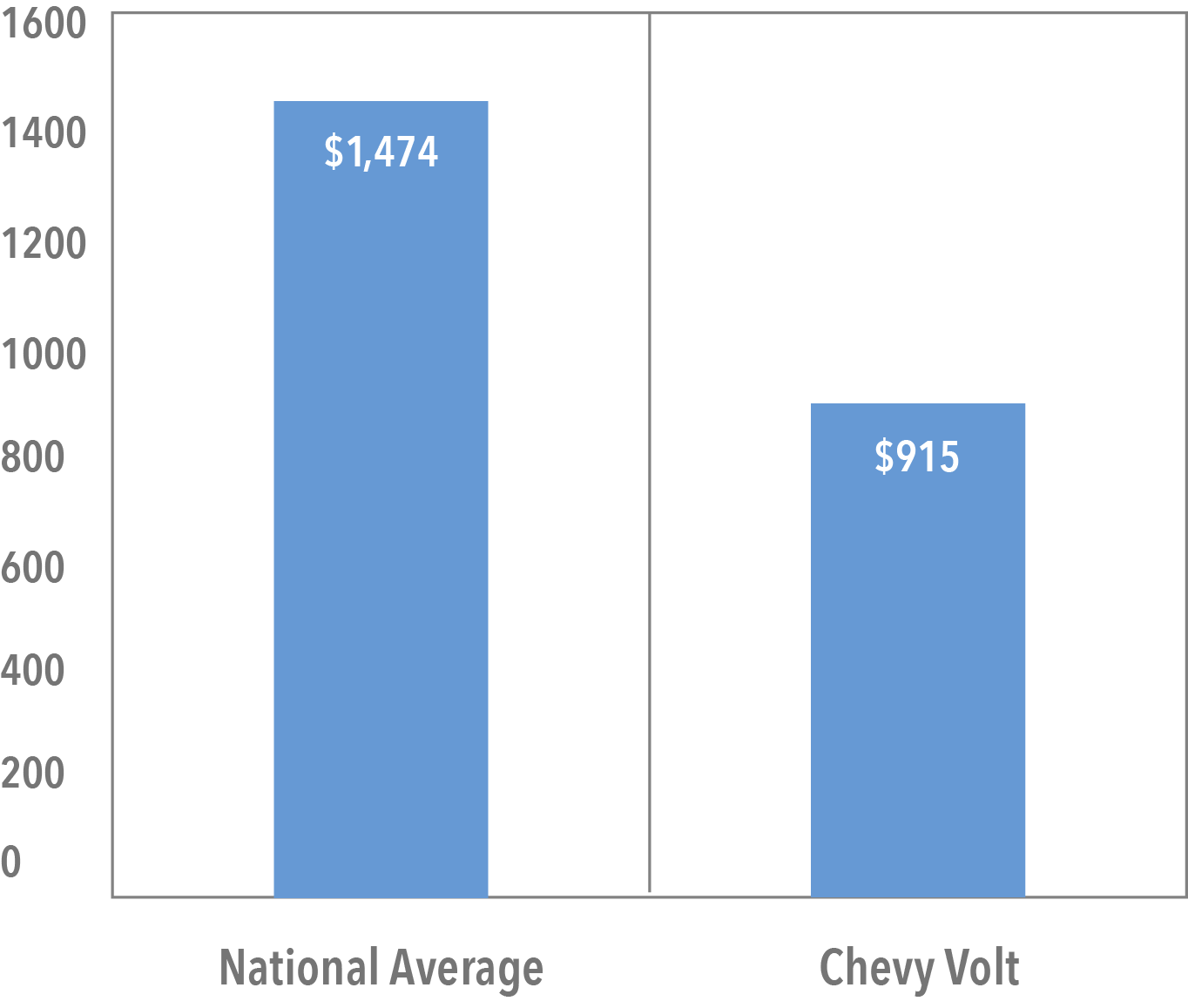 Insurance for a Chevy Volt averages about $915 per year, lower than the national average of $1,474. This figure, however, does not tell the full story.
The national average for auto insurance includes all types of vehicles, from compact cars to SUVs, gas-powered vehicles, and hybrids. Compared to other similarly sized vehicles, a Volt will likely cost more to insure.
A 2015 study compared the costs of certain hybrid vehicles to their gas-only counterparts. The Toyota Highlander hybrid, for example, costs 11.8% more to insure than the Highlander's gas-only model. (The Volt does not have a gas-only version to compare insurance costs to.)
Where you live and a several other factors also influence your auto insurance rates. Chevy Volt owners can expect to have varying rates, depending on:
Age and gender
Driving record
Marital status
Credit history
Amount driven per year
Your coverage limits and deductibles also impact your insurance rates. Higher coverage limits, which are often necessary to ensure sufficient coverage in a serious crash, will yield higher insurance rates.
Lower deductibles (the amount you must pay out of pocket before your insurance policy kicks in) will increase your Volt insurance rates as well.
Many Chevy Volt owners will qualify for at least one or more discounts that can lower their insurance rates. Some of the more common discounts offered by insurance companies include:
Multi-policy discount for those with multiple policy types (usually auto and home) with one insurance company
Multi-vehicle discount for those who insure more than one vehicle with an insurance company
Safe driver discount if you have a clean driving record
Good student discount for students who earn good grades
Some insurance companies also offer "green" discounts for hybrid drivers.
What Influences Insurance Costs for Hybrid Vehicles?
Insurance companies look at certain factors when determining insurance costs for a particular type of vehicle, including:
Initial purchase price of the vehicle
Repair costs
Model history of accidents
Safety ratings
Speed and power
Theft ratings
Hybrids typically cost more to insure than traditional fuel vehicles for several reasons:
Higher initial cost means higher repair or replacement costs and bigger claim payouts.
Not as many aftermarket repair parts are available because hybrids are relatively new.
Some studies have shown that hybrids may be more likely to collide with pedestrians or cyclists because they have quiet engines.
Expensive parts and cutting-edge technology requires specially trained mechanics.
Some insurance companies consider hybrid drivers to be less risky than drivers of non-hybrid vehicles, and may offer discounted premiums for hybrid models. Other insurance companies are more concerned with the high costs of hybrid repairs, which is reflected in the higher rates that they charge.
Chevy Volt Safety and Auto Theft Ratings
Vehicle safety ratings are based on the frequency of accidents for a particular car model, and how likely it is for passengers to be injured.
Insurance companies treat safer vehicles more favorably because they are less likely to have to pay costly claims for passenger injuries and repairs. Cars with lower safety ratings are generally more costly to insure.
The IIHS gave the 2017 Chevy Volt the rating of Top Safety Pick+. To earn this rating, a vehicle must earn an advanced or superior rating for front crash prevention and good ratings in other tests.
The Volt achieved the following safety ratings:
Moderate overlap front test: Good
Small overlap front test: Good
Side impact test: Good
Roof strength test: Good
Head restraints and seats: Good
Front crash prevention: Superior
Auto theft is also an important factor in insurance rates. Fortunately for Chevy Volt owners, hybrid vehicles have very low theft rates. There is not much of a market for stolen parts from hybrid vehicles, and imagine being the thief who makes off with a hybrid only to find that the battery is nearly dead. Now what?
There has been an uptick in theft of hybrid batteries in recent years. But in general, a Chevy Volt owner can expect that their insurance rates will not be higher because the vehicle is a common target for thieves.
Nonetheless, if you want to make sure your car is safe from thieves:
Always park in safe, well-lit areas
Never leave your car running while unattended
Always lock your vehicle
Installing an alarm system may provide the extra benefit of making you eligible for an anti-theft discount from your car insurance company.
Repair Costs for the Chevy Volt
In general, the higher a vehicle's purchase price, the more expensive it will be to repair it or replace it. Hybrids like the Chevy Volt tend to be more expensive to repair than their gas-only counterparts.
We compared costs for some of the most common post-crash body repairs, including repairing or replacing the front bumper, grille, and windshield. Insurance companies are concerned with these prices because they reflect what they might have to pay out if you have to file a claim after an accident.
Where to Find Car Insurance for Chevy Volt
Environmentally conscious drivers will find a lot to like about the Chevy Volt. The vehicle is a top safety pick, and offers a variety of options and amenities to suit nearly any driver. But if you purchase a Volt, be prepared to pay a little more for your car insurance.
An independent agent can help you find high-quality Chevy Volt insurance that fits your needs and budget. An independent agent in your area can obtain quotes from multiple insurance companies, and can help you compare rates and coverage so you can be sure you are making the right choice.
Find a local independent agent today to make sure you get the coverage you need.