Chrysler 300 Insurance
The Easiest Way to Purchase Chrysler 300 Insurance
(And how you can get started today)
The Chrysler 300 is a big, bold sedan that has enough power under the hood to get you wherever you need to go quickly. It's fun to look at and even more fun to drive.
Its luxurious interior is equipped with the latest technology and safety features, which ensures that you and your passengers are always comfortable and safe.
The 300 straddles the line between a high-performing family sedan and an entry-level luxury vehicle. If you're wondering about the cost to insure this vehicle, you'll find that it's right in line with the national average.
Chrysler 300 insurance is around $1,444 per year, which is only $30 less then the national average of $1,474.
An independent agent can help you find a Chrysler 300 insurance policy that will offer the protection you need at a price you can afford. They can also make sure you are getting all of the available discounts that you qualify for and answer any questions you may have about car insurance.
How Much Does Chrysler 300 Insurance Cost?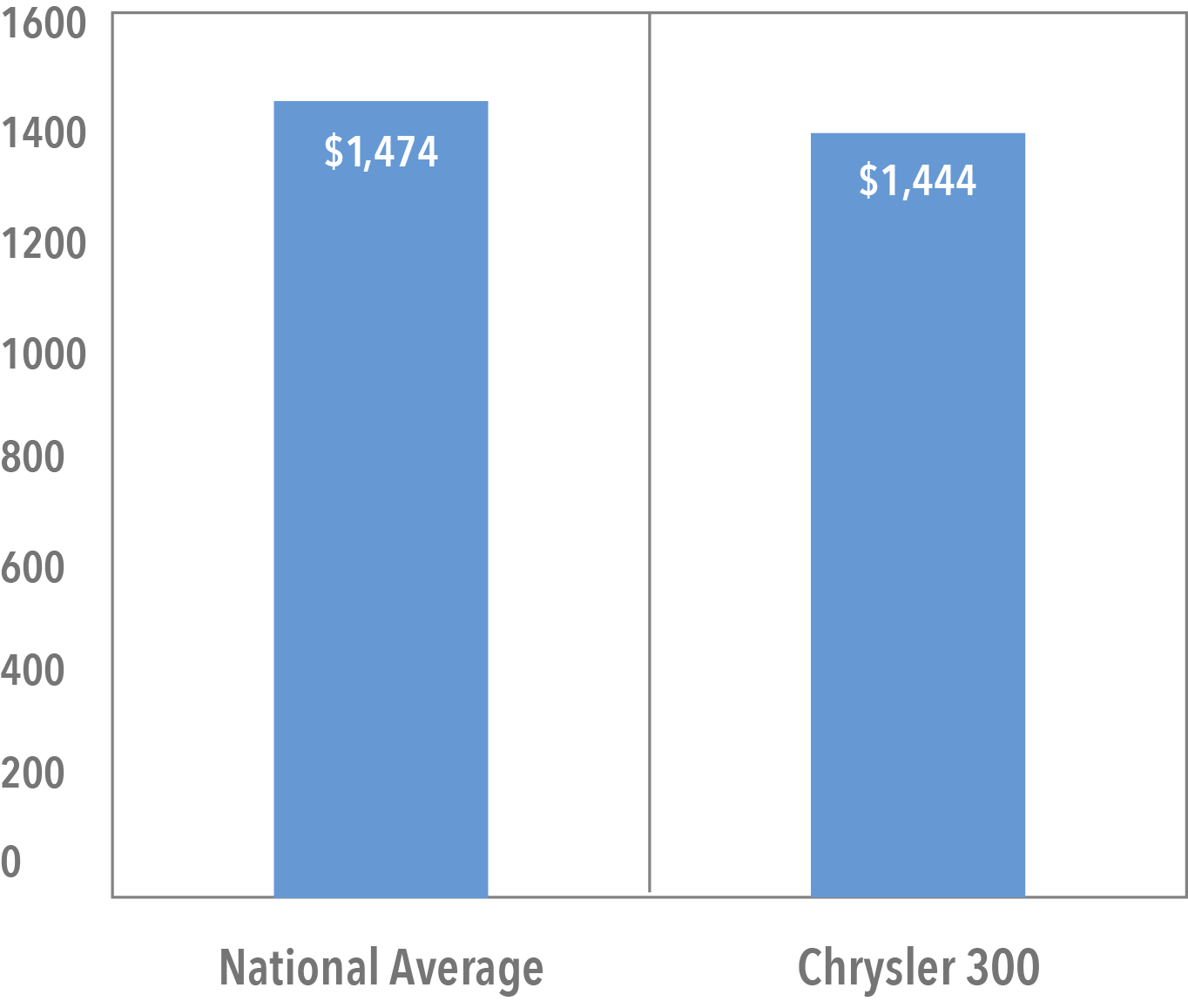 The Chrysler 300 is a big sedan that is an excellent family vehicle. It is loaded with the latest technology and safety equipment, all of which help keep insurance for it fairly affordable. The average annual premium for the Chrysler 300 is $1,444. This is only slightly below the national average of $1,474.
While the type of car you drive impacts your premium, there are other factors that will push it up or down. One of those factors is the uninsured driver rate in your particular state. Unfortunately you have no control over this particular factor.
Nationwide, the uninsured driver rate is a surprisingly high 12.6%, and in some states, this figure is much higher. In Oklahoma 1 out of every 4 drivers is out on the road without insurance.
Because insurance companies have to cover the cost of claims that involve uninsured drivers, they pass that cost on to insured drivers via higher premiums.
While you have no control over uninsured drivers, there are ways to lower your premium. One of the best ways to do that is to use the discounts that all insurers offer. Your job is to make sure you are getting all of the discounts that you are qualified to receive. Here are a few of the more common discounts.
Safety features: Insurers love vehicles that are loaded with safety features and they will offer a discount on your premium depending on what types of features your car includes. Advanced safety features such as a rearview camera, blind spot monitoring and collision avoidance technology will result in an even bigger discount.
Bundling: Purchasing your car, home and life insurance from the same insurance company will usually result in a bundling discount. While the exact amount will vary, expect a discount between 20% and 25%.
Safe driver: Keeping your driving record clean will almost always result in a discount. Requirements vary, but in most cases you will have to be ticket and accident free for at least three years.
Paperless policy: Ditching the paperwork can result in a small discount. If you receive your policy and bills via email, your insurer will most likely offer a discount. While usually not a huge price drop, every little bit helps.
Pay annually: If you can afford to pay your annual premium all at once, your insurance company will often offer a small discount, since they don't need to send out a monthly bill.
A Trusted Choice agent can track down all of the discounts that you qualify for and make sure they are applied to your policy.
Safety and Theft Ratings for the Chrysler 300
The Chrysler 300 gets good but not top safety marks. It was awarded an overall 4 out of 5 star rating from the National Highway Traffic Safety Administration (NHTSA) and also received the top rating of "Good" from the Insurance Institute for Highway Safety (IIHS) in all but one category. In the small overlap front test, it only received a marginal rating.
Standard safety equipment includes anti-lock brakes, stability control, numerous airbags, anti-whiplash headrests and a security system.
The Chrysler 300 offers a wide variety of advanced safety equipment, but most is optional. A few of the optional safety features include ParkSense® front and rear park assist, adaptive cruise control with stop, LaneSense® lane departure warning with lane keep assist, and advanced brake assist.
Insurers will often offer discounts for advanced safety features that help prevent accidents or reduce the amount of damage as they help keep claim costs lower.
Safety ratings and safety equipment will definitely impact your rates, but theft rates can also push your rates up or down. The Chrysler 300 used to be a regular on lists of frequently stolen cars, but in recent years thefts of this car have fallen off.
Unfortunately, insurers consider theft data from numerous years when calculating a premium, so there is a good chance its past will still impact your premium.
Car theft happens much more often than most people think. According to FBI statistics, 707,758 vehicles were stolen in 2015, which translates into a car being boosted every 45 seconds.
There are a few things you can do to help keep your car safe and lower your insurance costs:
Keep it in a garage: In most cases, your insurance company will offer a discount if you keep your car in a garage. A garage protects your car from thieves as well as severe weather.
Alarms: The 300 does come with a standard alarm system, but you may want to consider upgrading to a third-party option. Modern security systems can alert your phone if the car is disturbed and even track it if it has been stolen. Insurers will usually offer a discount for an alarm system.
Lock your car: Lock your vehicle every time you get out of it, regardless of how long you will be gone. Car thieves love unlocked cars, so lock it up to help prevent theft.
Park in a well-lit area: Always park your vehicle in a well-lit, heavily traveled area if possible. This will deter thieves and keep your vehicle safe.
Car theft and vandalism are covered by comprehensive insurance. If you are not carrying this type of coverage, you will be on the hook for the cost of replacing or repairing your car. Comprehensive will also cover vandalism, theft, flood, fire and damage caused by animals.
Where to Find Car Insurance for a Chrysler 300
The Chrysler 300 is a striking family sedan that offers great performance and value. If you have one in the garage or are shopping for one, you will need the right Chrysler 300 insurance policy to protect your investment.
An independent agent will help you find the perfect policy at a price that fits your budget. They will do all of the legwork, shopping numerous companies and presenting you with the best options. Contact an agent today.