Mazda Miata Insurance
Keep Driving a Mazda MX-5 Miata with the Right Insurance
(How to easily find the right coverage)
The Mazda Miata, or MX-5 as it is now known, is one of the best-selling convertibles in automotive history. It was introduced in 1989 and quickly developed a cult-like following that continues today.
Its sleek design combined with a perky engine makes the MX-5 a great-looking car that is fun to drive, and as an added bonus, it's a convertible. While the MX-5 has been through numerous design changes over the years, one thing that has never changed is the performance, which makes it such a pleasure to own.
Regardless of whether you use your MX-5 as a daily driver or only to cruise up the coast with the top down on sunny days, properly protecting it with the right insurance policy is necessary.
An independent agent can use their expertise to find multiple insurance quotes that will meet the coverage needs for your sports car.
How Safe is the Mazda MX-5 Miata?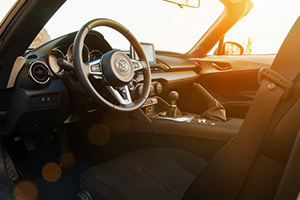 The MX-5 is a fairly safe vehicle, but any time you strap yourself into a small convertible, you have to realize you're taking a much bigger risk than a driver in a mini-van. Its weight and low profile make it a thrill to drive, but put you at a distinct disadvantage in a car-to-car crash. These factors can push your MX-5 Miata insurance premiums up.
Large vehicles are safer because they have bigger crush zones and longer hoods, which are a big advantage in a front-end crash. According to test results from the Insurance Institute for Highway Safety, a heavier vehicle will push a smaller one backward during impact, which puts more force on the smaller car.
Despite their size, smaller vehicles have become much safer in recent years. Advanced structural materials such as hot-press steel have helped make the frames stronger. Advanced safety features such as side airbags, electronic stability control and traction control have become standard, even on small vehicles, which dramatically increases safety.
Because it's a low-sales specialty vehicle, neither of the U.S. safety agencies have crashed tested the Miata. Despite its lack of testing and small size, the MX-5 is considered a relatively safe vehicle and is loaded with safety features.
Here are just a few of the safety features on an MX-5:
Interior features:
Driver air bag
Passenger air bagRear air bag
Side head air bag
Rear head air bag
Side air bag
Rear body air bag
Exterior features:
4-wheel ABS
4-wheel disc brakes brake assist
Electronic stability control
Rollover protection system
Traction control
Moving up to the GT model adds blind-spot monitoring, rear cross-traffic alert, and lane-departure warning system, all of which will help keep you safe and lower your car insurance premium.
What are the Costs of Owning a Miata
The MX-5 is fairly inexpensive to own. According to Cars.com, the 5-year cost of the MX-5 comes to roughly $36,572. Maintenance and repair costs are a reasonable $4,168 and $1,378.
Kelley Blue Book likes the ownership costs of the Miata so much that they awarded the 2015 model a 5-Year Cost to Own Award in the sports car category.
Insurance can be a bit more expensive with the Miata. The 5-year cost of insurance can run roughly $5,400. Its small size and sporty performance don't help with the cost of insurance.
Statistics show that smaller cars, especially sports cars (which the Miata is considered) are involved in more accidents, making them more expensive to insure. Surprisingly, the manual transmission doesn't help with insurance costs either.
Vehicles with manual transmissions and higher horsepower engines are often driven more aggressively and are involved in more accidents, which pushes up insurance rates for every Miata owner.
Experts recommend that small car owners add uninsured/underinsured coverage to their policy in order to ensure that they are fully protected.
Since Miata drivers may be at greater risk for injuries in an accident due to the smaller vehicle size, drivers should carry this coverage, which helps cover medical bills for you and any passengers if you are hit by a driver who is without coverage or is carrying low liability limits.
While a smaller car is more expensive to insure, there are ways to help lower this cost. Driving a new Miata, which comes standard with many more safety features than older models, is less expensive to insure. How often you take your MX-5 out on the road also impacts your premium.
If it's not a daily driver, ask your insurer for a discount or a policy based on mileage, which should be cheaper. As always, your driving record has a big impact on your premium, so keep the speed down when cruising those curvy highways in your Miata.
Using a Trusted Choice independent agent will guarantee that you find the best coverage for your Miata at the best price. They can guide you through choosing coverages and finding discounts to help bring down the cost of Miata insurance.
How to Find Miata Insurance
There is no doubt that the MX-5 is a fun car to drive, but its small size and lack of safety ratings can push up the price of coverage on this one-of-a-kind sports roadster.
Working with a local independent agent can help lower the premium on your Miata insurance and make sure your MX-5 is fully protected with the right coverage types and levels of car insurance.
Contact an independent agent near you to get multiple Miata insurance quotes today.