Nissan Rogue Insurance
How You Can Save Money on Insurance By Owning a Nissan Rogue
(A quick guide on finding the right coverage)
The Nissan Rogue is a compact crossover SUV (or CUV) that offers a variety of features and amenities and a Top Safety Pick rating from the Insurance Institute for Highway Safety.
Owners of CUVs like the Nissan Rogue enjoy relatively low insurance rates because CUVs are affordable, safe to drive, inexpensive to repair, and relatively safe from thieves. What's more, the Nissan Rogue is inexpensive to insure because it is popular with families and drivers, who are considered better risks for insurance companies.
An independent insurance agent can help you find the best Rogue insurance at an affordable price. Independent agents can obtain quotes from multiple carriers, so you can shop around and make sure you are getting the best policy for your needs and budget.
How Much Does Nissan Rogue Insurance Cost?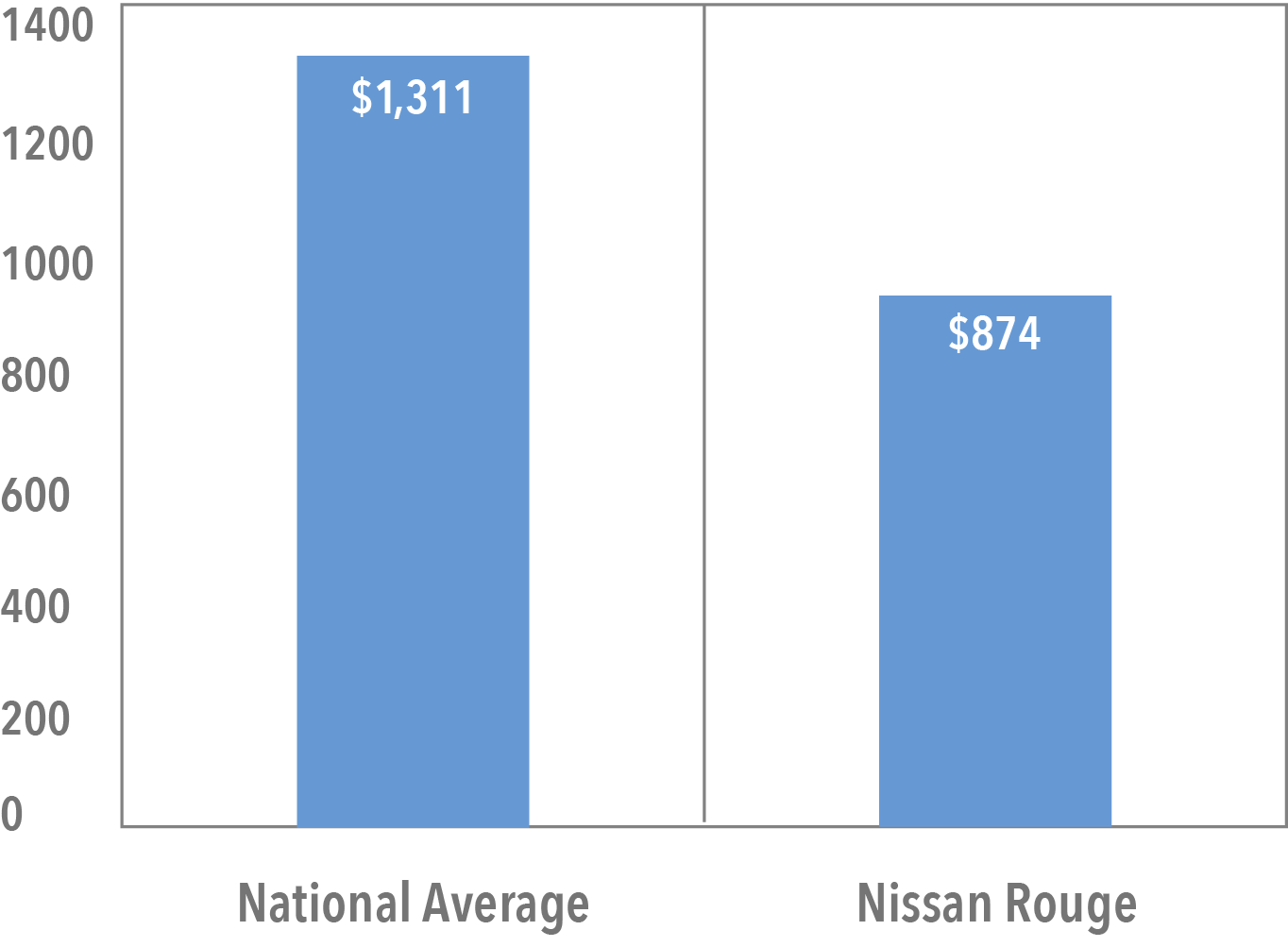 If you are interested in purchasing a Nissan Rogue, consider that Rogue insurance averages about $874 per year. This is lower than the national average of $1,311, making Nissan Rogue insurance very affordable. This estimate is based on the vehicle make and model. Your insurance rates will vary based on a variety of other factors.
Insurance companies base their rates on a vehicle's record of claims, how costly it is to repair, the likelihood of passenger injuries if it is involved in a crash, and other factors, like how often the vehicle is stolen.
More expensive cars generally cost more to insure because they cost more to repair or replace after an accident. Vehicles that are larger and safer tend to have better auto insurance rates. Crossover SUVs (or CUVs) like the Nissan Rogue tend have relatively low insurance rates.
Companies also take into account the following characteristics of the driver:
Your age and gender
Your driving record
Your marital status
Your credit history
Where you live
How much you drive
Insurance rates can vary depending on the types of coverage you purchase and your coverage limits. The deductibles you choose can also raise or lower your Rogue insurance rates.
You will likely need to purchase uninsured and underinsured motorist coverage, because approximately 12.6% of drivers in the country are uninsured.
This type of coverage helps to pay for damage to your vehicle if you are in an accident with an uninsured driver. The prevalence of uninsured drivers where you live impacts how much you will pay for Nissan Rogue insurance.
What Influences Insurance Cost for Crossover SUVs?
SUVs and CUVs tend to be less expensive to insure than other types of vehicles. Insurance companies base rates on factors like costs of repairs, safety, and frequency of claims for a particular model.
Because the Nissan Rogue and others like it tend to be driven by parents or older, safer drivers, insurance rates tend to be low.
Nissan Rogue Auto Theft and Safety Ratings
The Insurance Institute for Highway Safety (IIHS) ranks vehicles for safety based on performance in a variety of tests that measure passenger injuries and vehicle damage.
These safety ratings are important because insurance companies treat safe vehicles more favorably. If a vehicle has high safety ratings, the insurance company is less likely to have to pay costly claims for passenger injuries and repairs.
The IIHS awarded the 2016 Nissan Rogue a Top Safety Pick rating. To earn this rating, a vehicle must earn a "Basic" rating for front crash prevention and "Good" ratings in other types of tests. The 2016 Rogue earned the following IIHS crash test ratings:
Moderate overlap front test (tests driver's survival space in a moderate overlap frontal crash test): Good
Small overlap front test (tests driver's survival space in a small overlap frontal crash test): Good
Side impact test (tests damage to the occupant compartment and potential injures during a side impact): Good
Roof strength test (tests the force that a vehicle's roof can withstand before it is crushed and invades the occupant compartment): Good
Front crash prevention (tests forward collision warning and automatic braking systems that help drivers avoid front-to-rear crashes at both low and moderate speeds): Basic
The Nissan Rogue also offers numerous safety features, which will help to keep your insurance rates low:
Dual front side-mounted airbags
Front and rear head airbags
Post-collision safety system
Stability and traction control
4-wheel anti-lock brakes
Emergency braking assist
If your vehicle is a popular target of thieves, you can expect to pay more for car insurance. The FBI's Uniform Crime Report indicates that more than $4.5 billion was lost nationwide to motor vehicle thefts in 2014. These losses are often in the form of auto insurance claims, so they are of great concern to auto insurance companies.
In 2014, the National Insurance Crime Bureau reported on SUV and CUV thefts nationwide. Between 2011 and 2013, 21,711 SUVs and CUVs were reported stolen in the United States. Compact CUVs like the Nissan Rogue had the highest number of thefts—6,981 overall.
According to the report, 695 Nissan Rogues were stolen during this period. In general, CUVs have seen an uptick in thefts in recent years. But advances in technology have allowed carmakers to stay one step ahead of the thieves and make auto theft more difficult overall.
The comprehensive part of your auto insurance policy pays for losses due to theft and certain other perils. Vehicles that have high rates of theft may cost more to insure. Whether you have a vehicle that is popular with thieves or not, you should take steps to protect your vehicle from thieves.
Repairs Costs for the Nissan Rogue
The cost of repairing your vehicle after a crash plays a significant role in how much it will cost to insure. These costs impact what the insurance company might have to pay out if you are in an accident.
If typical post-crash body repairs (e.g., repairing or replacing the front bumper, grille, or windshield) are higher than average, you can expect to pay more for car insurance. Nissan Rogue repairs are lower than the national average. This helps to keep your Rogue insurance rates low.
Where to Find Car Insurance for Nissan Rogue
SUVs and CUVs like the Nissan Rogue are popular with families. The Rogue is a safe and economical vehicle that also has low insurance rates, making it a very affordable vehicle to own. Drivers of all kinds will appreciate the many safety features offered by the Rogue, and can feel confident in its Top Safety Pick rating from the IIHS.
A Trusted Choice independent insurance agent can help you find quotes for Nissan Rogue insurance. This agent can obtain quotes from multiple, highly-rated insurance companies, so you can find the policy that best fits your needs and budget.
Start your search for a local independent agent now.