Honda Fit Insurance
Honda Fit Insurance: What Should You Be Paying?
(Finding the right coverage for your Honda Fit)
In your search for a new vehicle, you are looking for a small car that makes a big statement. The spacious cabin, strong fuel economy and competitive features of the Honda Fit have caught your eye, and are why this vehicle is a top choice in the subcompact car segment.
The Fit offers unmatched small car versatility, thanks to unique rear seat design; spacious seating and cargo area; excellent visibility; and stellar safety marks.
All of these features are attractive, not only to consumers, but to insurance companies as well. The average price of car insurance for a Honda fit is around $841 a year, depending on a multitude of factors.
Before you contact an insurance agent for the right Honda Fit insurance policy for your needs, find out if this car is truly the best fit for you.
How Much Does Honda Fit Insurance Cost?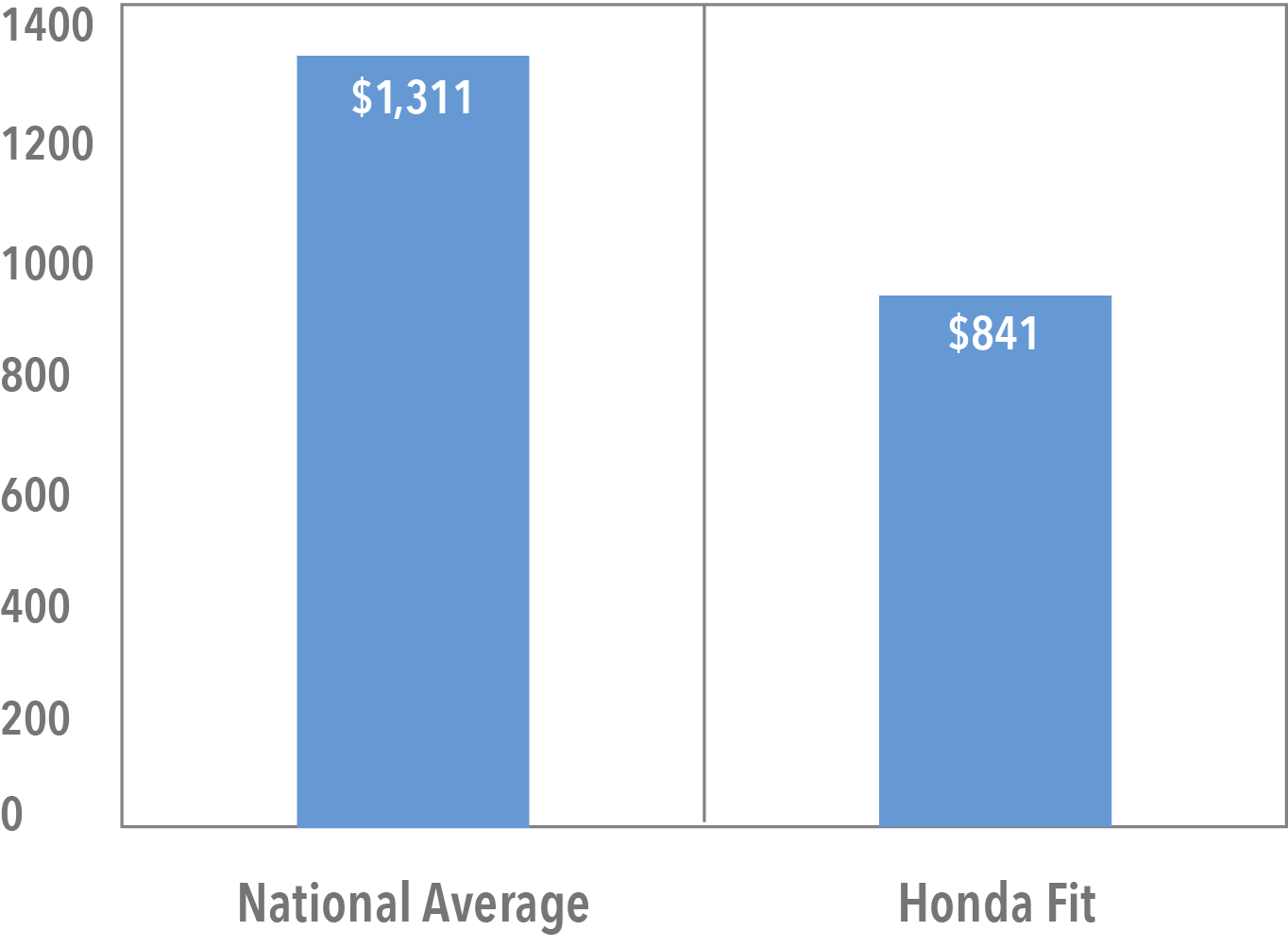 Honda Fit owners can expect to pay an average of $841 per year for car insurance. That's $470 less than the national average of $1,311. It's significantly less than the out-of-pocket costs the 1 in 10 drivers who operate vehicles without insurance eventually discover.
You want a policy to protect yourself against the 12.6% of drivers who fail to purchase insurance.
If you finance your Honda Fit purchase, your lender will most likely require you to carry comprehensive insurance until the loan is paid off. This offers liability protection and collision coverage.
It will help pay your medical bills and those of any other person injured in a crash, as well as help pay to repair the vehicles or any property damage.
You are probably aware that your age, gender and driving history can all influence your car insurance rates. You should know that insurance companies also take the following into account when calculating your premiums:
MSRP: The vehicle's price is the No. 1 additional factor. The more you pay for a vehicle, the more you will pay for car insurance.
Your credit score: Those with higher scores will pay lower rates on insurance, since the company assumes better credit means better (more responsible) drivers.
Safety rating: A car that flunks its crash testing will cost more to insure than one that protects occupants from injury.
Risk of theft: Cars that attract thieves will be more costly to insure than models that are rarely stolen.
You can reduce your Honda Fit insurance rates by bundling your car insurance with another policy, such as your homeowners insurance; insuring all of your household's vehicles under a single policy; paying your premium in one payment for the year; and taking a defensive driving course.
What Influences Insurance Costs for Compact Cars?
The type of vehicle you drive impacts the price you will pay for car insurance. In general, small compact cars like the Honda Fit are more expensive to insure than larger vehicles. That's because younger drivers tend to like smaller, sportier cars better than any other demographic, and they are known for taking risks.
Small cars are also assumed to be less safe than the towering SUVs, trucks and other large vehicles on the road. Fortunately for Honda Fit owners, this small car seems to be in a class of its own in terms of safety.
Honda Fit Auto Theft and Safety Ratings
Usually, smaller compact cars don't do so well on safety ratings. The Honda Fit performed so well in crash test results that the Insurance Institute for Highway Safety (IIHS) named it among the 2015 Top Safety Picks. Sometimes, it pays to be unusual.
The Fit got the following scores on the IIHS safety categories, with "Good" being the highest:
Small overlap front: Adequate
Moderate overlap front: Good
Side: Good
Roof strength: Good
Head restraints and seats: Good
Safer vehicles such as the Honda Fit will have lower car insurance rates than those that do not perform as well during crash testing.
Unfortunately, the Honda brand is a favorite among car thieves. Although the Fit isn't among the FBI's top 10 list of most stolen vehicles, insurance companies may charge a little more for premiums on a Honda than they would a Ford.
If you live in a major metropolitan area where car theft is more common than in rural areas, your insurance will be higher yet.
You can mitigate your risks of car theft by parking your Honda Fit in a garage or well-lit area; never leaving your keys inside; never leaving valuables in sight; and installing anti-theft devices.
Repair Costs for the Honda Fit
If you are involved in a crash with your Honda Fit, chances are you will need to repair the front bumper, grille, windshield, or a combination of all three.
These are the most common parts in need of repair following an accident, and insurance companies pay attention to how much it costs to fix these issues for different vehicles.
If it costs you $200 less than the average car to replace a broken bumper and a cracked grille, the insurance company will reflect that by lowering your premiums.
The Fit comes in below average on these costs, and the difference is enough that it may help lower your car insurance rates. Honda models have developed a reputation for being reliable vehicles with lower repair costs, not just for auto body work, but for engine repair and maintenance as well.
If you decide to purchase a Honda Fit, your repair costs, maintenance fees and insurance rates could be lower than if you choose another type of vehicle.
Where to Find Car Insurance for Your Honda Fit
If you have made the choice to add the Honda Fit to your household's fleet, it's time to find the perfect car insurance policy. Knowledgeable, independent insurance agents with Trusted Choice can help you by finding a variety of quotes from a number of different insurance companies.
This allows you to choose a policy with the best coverage at the most affordable rates. Contact a Trusted Choice agent today to find out how they can assist you in finding the best insurance for your Fit.