Chevy Cobalt Insurance
Find the Best Price for Insuring Your Chevy Cobalt
(And how you can easily get started today)
Chevrolet introduced its compact car, the Cobalt, in 2004 and produced these cars from the 2005 through 2010 model years. Available as a coupe or a sedan, this budget-friendly car replaced Chevy's Cavalier and Prizm models.
Today, these inexpensive and relatively safe cars are an affordable option for teenage drivers and for use as "beater cars," though some owners find them to be perfectly acceptable vehicles as their primary car.
Regardless of how you use it, if you own a Chevy Cobalt, it will need to be covered with an insurance policy that meets or exceeds your state's minimum coverage requirements.
Fortunately, coverage costs for this used car are more affordable than they are for many other vehicles. At around $1,176 for an average yearly premium, the Colbat will usually cost you less than the national average.
Whether you already have a car insurance policy or you are in the market to purchase your first, a local independent agent can help you find savings. These independent agents can help you obtain rates from a variety of reputable insurance companies so that you can easily choose the policy that best fits your coverage and budgetary needs.
Find an agent near you to learn more and to start comparing Chevy Cobalt insurance quotes.
How Much Does Chevy Cobalt Insurance Cost?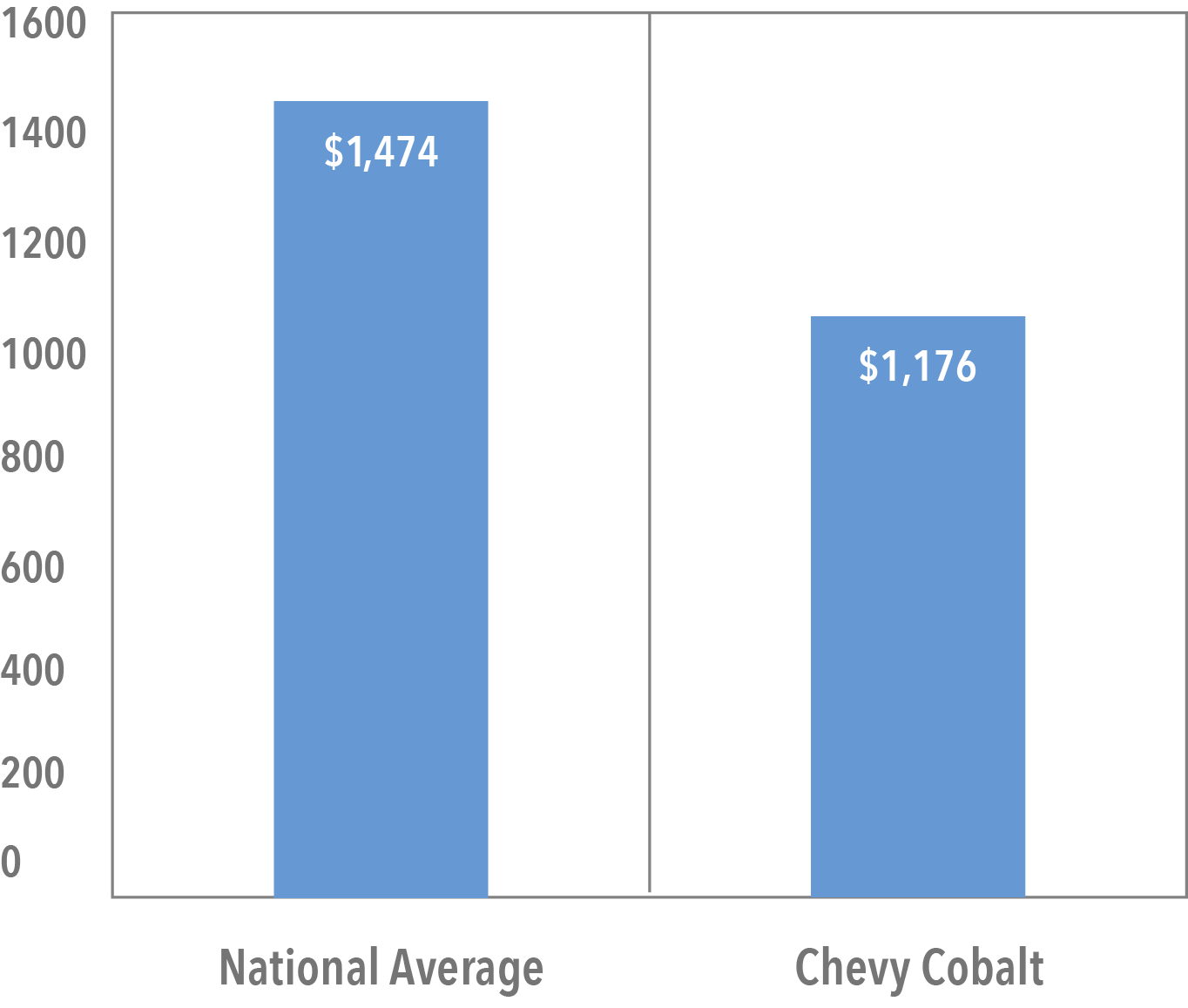 On average, owners of Chevy Cobalts pay about $1,176 per year to cover their vehicles. One factor that significantly adds to the average cost for coverage is the age of the driver.
Because this affordable used car is often driven by younger drivers, average rates tend to be on the higher end for a car in this price range. Older drivers who own these cars often pay much less for their insurance.
Cobalt owners should also be aware of the problem of uninsured drivers. About 12.6% percent of all drivers on this nation's roadways are uninsured. If an uninsured driver is responsible for a collision with your vehicle, it may be extremely difficult to collect compensation.
That is why many states require drivers to include uninsured motorist coverage in their policies. For those who live in states without this requirement, this coverage is optional but often recommended.
There are many other factors that can influence your Chevy Cobalt insurance rates. These include such things as:
How much liability coverage you are purchasing
Your personal driving record
The car accident rate where you live
The estimated number of uninsured drivers in your state.
If you are under 25 years old and a Cobalt is your first car, you may find your rates for coverage surprising. Fortunately, many insurers offer discounts for certain drivers who qualify.
These can include safe-driver discounts and good-student discounts. A Trusted Choice agent can help you find policy discounts for which you qualify.
What Influences Insurance Costs for Small Vehicles?
Compact cars like the Cobalt have advantages and disadvantages when it comes to insurance coverage.
Because these cars are smaller and lighter than most vehicles on the road, they typically do not result in as much property damage or as many significant injuries to others if you are responsible for an accident.
This can lower your liability coverage costs. Also, because the Cobalt is a used car, many owners do not find it advantageous to purchase collision or comprehensive coverage with their policy packages. If you can reasonably afford to replace your car, it might be more cost-effective to forgo this coverage.
If you do decide to purchase it, you will find this optional coverage less expensive than it is when purchased for a newer car.
On the other hand, when you are driving a compact car, you and your passengers are more likely to sustain significant injuries if you are in an accident, and your car is more likely to be totaled in a collision with a larger vehicle such as an SUV.
You may therefore expect higher rates for personal injury protection (PIP). Also, if replacing your vehicle would cause you a financial hardship, adding collision coverage would likely be a good idea.
Your Trusted Choice agent can help you decide which coverage options are right for you and can help you see how much adding them to your Chevy Cobalt insurance policy will cost you. That way, you can be sure that you are getting the right coverage at the best price.
Chevy Cobalt Auto Theft and Safety Ratings
Nationally, the rate of theft for the Chevy Cobalt is rather low. However, it is worth noting that in the state of Maine, the 2005 Cobalt was the 8th most stolen vehicle in 2015. If you want to be sure that you will be compensated for your loss if your Cobalt is stolen, you will need to include comprehensive coverage with your Cobalt insurance policy.
This insurance will also cover damage to your vehicle besides a collision. This can include such things as falling tree limbs, garage fires, and floods. A Trusted Choice agent can help you review how much it will cost you to add this frequently optional coverage to your policy.
The safety of the Cobalt also plays a role in your insurance rates, and should be an important factor if you are considering purchasing this vehicle. While compact and subcompact cars—particularly older models—tend to have issues with occupant safety, the Cobalt has moderate ratings.
The Insurance Institute for Highway Safety (IIHS) rates this vehicle as follows for crash safety:
Small overlap front: Good
Moderate overlap front: Not Rated
Side impact (older models without side curtain airbags): Poor
Side impact (newer models with side curtain airbags): Acceptable
Rear crash protection: Good
Unfortunately, Cobalt vehicles from the 2005 through 2008 model years did not come equipped with side curtain airbags. These earlier vehicles had the highest fatality rate in the small 4-door classification, with a rate of approximately 117 deaths per million vehicles on the road.
The 2009 and 2010 models fared a bit better. One reason for the high number of fatalities in this vehicle may be that many car rental companies included a large number of these models in their fleets.
Costs of Chevy Cobalt Vehicle Repairs
Vehicles that are costly to repair tend to cost more to insure. The good news for Cobalt owners is that these vehicles are relatively inexpensive to repair. While replacement of worn car parts will not be covered by your insurance policy, if these important components of your car are damaged as a result of a collision, they will be.
Either way, being an economical vehicle that is inexpensive to purchase, repair, and insure makes the Chevy Cobalt a great choice for many who are in the market for a used car.
Where to Find Car Insurance for Your Chevy Cobalt
Comparison shopping is always an important step if you are looking for the best price for any type of insurance policy. A local independent agent can help make shopping stress-free. These agents will take the time to understand your coverage needs and answer your insurance-related questions.
They can then gather quotes for policies and rates from a variety of competing insurance companies so that you can easily compare what they have to offer. Find an agent near you to get started, and discover how easy it can be to compare quotes for Chevy Cobalt insurance.