Chevy Cruze Insurance
How to Get an Affordable Deal on Chevy Cruze Insurance
(And how you can easily get started today)
Recognized as a Top Safety Pick by the Insurance Institute for Highway Safety, the Chevy Cruze is a top choice for discerning consumers on a budget; about a quarter of a million are sold in the United States each year.
Best of all, not only are these cars affordable, so is the insurance to cover them. Chevrolet Cruze insurance policies cost owners an average of $921 a year, which is lower than the national average.
If you own a car, you need to have insurance. Whether you wish to find a more affordable policy or are buying coverage for the first time, a local Trusted Choice® agent can help you find the policy that is best for you.
Because they are independent agents, they can work with several different insurance providers to obtain rates for policies that have been customized just for you. That way, you can purchase the plan that provides the best value for your money.
Find an agent near you to learn more about your various Chevy Cruze insurance options.
How Much Does Chevy Cruze Insurance Cost?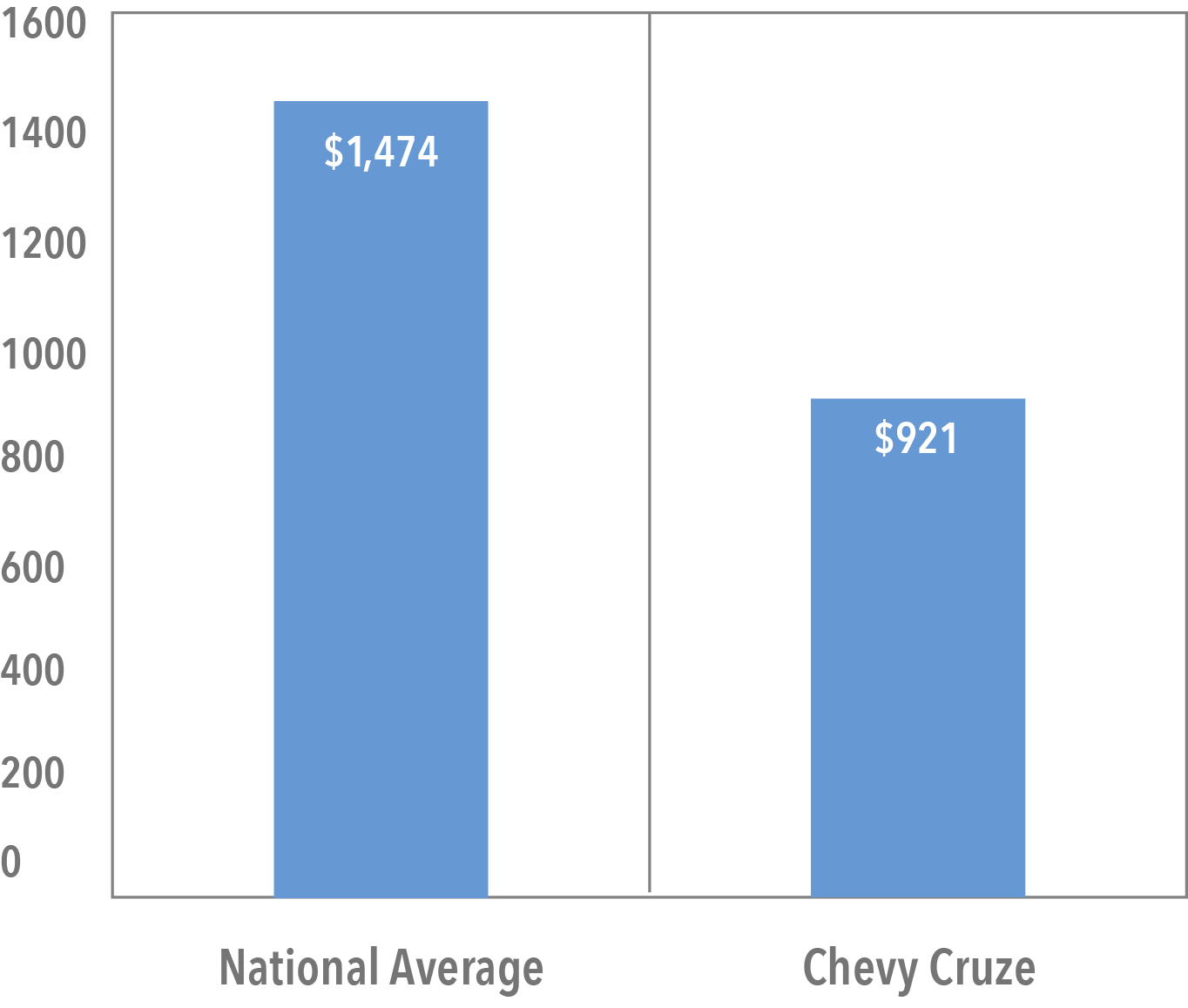 Owners of the most recent Chevy Cruze models pay an average of $921 per year to cover their vehicles. Of course, your actual rates can potentially be much higher or lower depending on a number of factors. These include such things as:
The coverage requirements mandated by your state
The amount of liability insurance you wish to include in your policy
The optional coverage types you wish to include in your policy (e.g., collision, comprehensive)
The ZIP code in which you live and park your car
Information about the licensed drivers in your household, including age, gender, marital status and driving history
The approximate number of miles your Cruze is driven each year
Whether or not you qualify for policy discounts
In some states, uninsured motorist coverage is a policy requirement, while in others it is optional. Whether or not it is required by the state in which you live, this coverage may prove quite beneficial.
This is because a surprising 12.6% percent of drivers in this country are operating uninsured vehicles—even though doing so is against the law and carries stiff penalties.
If you do not have uninsured motorist coverage and one of these scofflaws is responsible for a collision with your vehicle, you will need to take that driver to court in order to recoup your losses.
Even with a court order, it can be quite difficult to collect compensation if the responsible driver simply does not have the funds to pay restitution.
When you carry uninsured motorist coverage, your insurance company will cover your losses upfront and then sue the offending driver on their own behalf. This insurance also covers you against damages caused by hit-and-run drivers.
A local Trusted Choice agent will be familiar with the minimum coverage requirements in your state, and will be able to provide you with guidance about which coverage options are right for you. Your agent can also ensure that you receive available policy discounts when they are applicable.
These may include discounts for such things as maintaining a safe driving record, completing a driver safety course, and bundling your car insurance with other policies like life, home, or renters insurance.
What Influences Insurance Costs for Compact Vehicles?
The Chevy Cruze is in a class of vehicles referred to as "compact cars." They are smaller and lighter than most cars on the road. Unfortunately, one of the great ironies is that smaller, more inexpensive cars frequently cost more to insure than their larger counterparts.
The reason for the higher rates is that in the event of a collision, a smaller car is more likely to sustain costly damages and the occupants of the vehicle are more likely to be injured. Given the rising costs of healthcare, it is no surprise that insurance companies charge more for personal injury protection and collision damage to owners of compacts.
One bit of good news is that the Cruze has excellent safety ratings for a car in its class, and this helps to keep costs more manageable.
Trusted Choice agents can help you discover how much it will cost you to carry policies with varying amounts of coverage and different coverage options. That way, you will be able to make an informed decision about what you can reasonably afford to include in your Chevrolet Cruze insurance policy.
Chevrolet Cruze Auto Theft and Safety Ratings
According to the National Highway Traffic Safety Administration (NHTSA), approximately two out of every 1,000 Chevy Cruzes in this country were stolen in 2013. Your risk of car theft is higher in some parts of the country than in others.
While the Cruze may not seem like a "hot" vehicle for car thieves, it is important to know about your insurance coverage options if your car is stolen. In the event of a car theft, you are only entitled to receive compensation from your insurance company if your Chevy Cruze insurance policy includes comprehensive (other than collision) insurance.
If you financed the purchase of your car, your lender likely required that you carry this optional coverage, which also covers non-collision damages such as from fires, floods and falling objects. The rate of car theft for the Cruze will play a role in how the insurance companies calculate your rate for this added insurance.
The safety of the Cruze will factor into your insurance rates as well. Fortunately, the Cruze is an exceptionally safe car. The Insurance Institute for Highway Safety rated this vehicle as follows for crash safety (ratings can be Good, Acceptable, Marginal, or Poor):
Moderate overlap front (2011-2017): Good
Small overlap front (2011-2015): Marginal
Small overlap front (2016-2017): Not rated
Side impact (2011-2017): Good
Roof strength (2011-2015): Good
Roof strength (2016-2017): Not rated
Head restraints and seats (2011-2015): Good
Head restraints and seats (2016-2017): Not rated
Additionally, the NHTSA gave the 2016 Chevy Cruze its highest, five-star rating for passenger safety. In fact, the Cruze is considered one of the safest compacts on the road, and this helps keep insurance rates manageable.
Costs of Chevy Cruze Repairs
If your policy includes collision or comprehensive coverage, your insurance company will provide you with compensation in amounts sufficient to handle your car repair costs when the damages are associated with covered events.
The Cruze is a smaller car with bumpers that may not line up well with the bumpers of larger vehicles like pickups and SUVs, so damage to the front bumper and grille are common hazards.
Fortunately, because the costs associated with these repairs are lower than average, your cost for coverage will be more affordable than it would for many other vehicles.
One reason for the lower-than-average repair costs is that this is a commonly found, American-made car, so replacement parts are typically easily accessible and do not need to be special-ordered from overseas. These lower repair costs are also good news for you when you are covering the costs of routine maintenance.
Where to Find the Best Car Insurance for Your Chevy Cruze
When you are shopping for insurance for your Chevy Cruze, you will want to be sure that you are getting the right policy at the right price. Trusted Choice agents can help.
These independent agents can work with you to learn your coverage requirements and can then obtain customized quotes from a variety of competing insurance companies. That way, you can easily choose the policy that is offered at the best price. Find a Trusted Choice agent near you to get started.